Biden Threats to end Nord Stream 2 if Kremlin invades Ukraine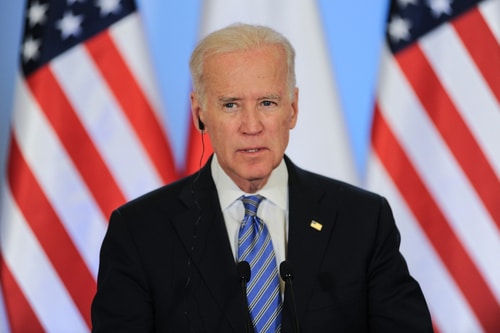 President Biden insisted Monday that the Nord Stream 2 pipeline from Russia to Germany would be brought to an end if the Kremlin chose to launch a renewed military invasion of Ukraine.
"If Russia invades, that means tanks or troops crossing the border of Ukraine again, then there will be no longer a Nord Stream 2. We will bring an end to it," Biden said at a joint press conference with German Chancellor Olaf Scholz. "I promise you we will be able to do that."
Biden did not expand on his conversations with Scholz about the pipeline, nor did he explain how the U.S. would ensure the pipeline would be halted given that it is under Germany's control. Scholz also insisted there would be no daylight between the United States, Germany and other European partners but declined to directly address the pipeline project, which has been a source of tension between the U.S. and Germany.
"We have intensively prepared everything to be ready with the necessary sanctions if there is military aggression against Ukraine," Scholz said, adding in English, "We will be united. We will act together and we will take all the necessary steps and all the necessary steps will be taken by us together."
Scholz said that Russia would face "severe" consequences if it invades Ukraine but declined to elaborate on the specific sanctions on the table.
The White House has described Nord Stream 2 as a significant piece of leverage in trying to prevent a renewed Russian invasion of Ukraine.
Speaking on NBC's "Meet the Press" on Sunday, White House national security adviser Jake Sullivan declined to characterize the German chancellor's position but said the pipeline would not move forward in the event of a Russian invasion.
"If Russia invades Ukraine, one way or another, Nord Stream 2 will not move forward," Sullivan said. "And Russia understands that. We are coordinated with our allies on that and that will be the reality if Russia chooses to move forward."
The Biden administration waived sanctions on the pipeline last year as part of an effort to rebuild ties with Germany.
The pipeline project has been completed but is still awaiting regulatory certifications before it can be brought online.
The Russia-Ukraine crisis dominated Monday's meeting between Biden and Scholz, which largely took place behind closed doors at the White House.
There have been questions about Germany's willingness to go along with a harsh sanctions package the U.S. is preparing to punish Moscow in the event of an invasion. Biden administration officials view the sanctions as powerful deterrence to prevent Moscow from making a move against its neighbor.
Germany has refused to send weapons to Ukraine and reportedly blocked Estonia from sending German-made weapons to Ukraine.
At Monday's meeting, Biden and Scholz displayed a united front in pushing back against Russian aggression. Biden was adamant that Germany is a reliable ally, and Scholz repeatedly described Germany as committed to imposing severe consequences on Moscow should it invade Ukraine.
Russia has amassed some 100,000 troops at the Ukrainian border, and Sullivan warned Sunday that an invasion could happen "at any time," though officials maintain they don't know that Russian President Vladimir Putin has made up his mind on what he will do.
"That is a serious threat to European security," Scholz said of the Russian troops deployments. "And this is why it's important that we act together, that we stand together and that we do what is necessary together."
The German chancellor described it as essential that the U.S., Germany, and other European and NATO allies "speak with one voice and do things together."
Source: The Hill