Single family homes to be built in Chicago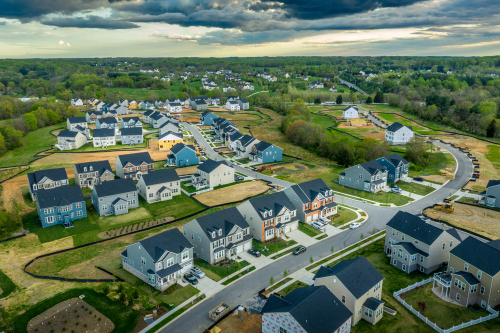 Chicago will see "modular" and "prefabricated" single-family homes in Back of the Yards as Chicago Cityscape reports on a new construction permit and building process. Kinexx Modular Construction has the March permit. Josh Braun and Architect Paul Tebben founded Kinexx Modular Construction. 1,450 sq. ft., three-bedroom and two-story "starter home" has a target sale price in the low 200s, excluding the cost of the land.
Chicago Cityscape reports the land is owned by an affordable housing manager and developer based in Pilsen, The Resurrection Project. There will be two feet above grade space of the house and an inaccessible crawl space below the house for two reasons: Keep some mechanicals above ground for easier access, and to create a small front stoop, "to engage with the legacy of stoops in the neighborhood."
Braun said, "we're trying to make a product that most working people can attain. Everyone wants something to call their own. I don't think that has ever changed, although the way to attain it has." foundation, two-car parking pad, appliances, utility connections, and landscaping will be included in the target sale price. Braun said that building inspection process is different for prefabricated homes.
Bruan said that the Chicago Department of Buildings has provided cooperation throughout the process. Cityscape quoted the builders as saying, "Our general understanding is that the building inspectors will do a rough inspection in the factory at the time the structure is reaching 80 percent finish, transported to the lot, inspected again, completed, and then inspected after completion."
When Chicago legalizes accessory "coach houses", the modular design and building process will become more useful. However, the modular design isn't built for that concept. "We are soup to nuts", Braun said, "providing the design, obtaining the permit, hooking up utilities, building the foundation, and the landscaping."