Wildfire started in New South Wales moves towards other Australian states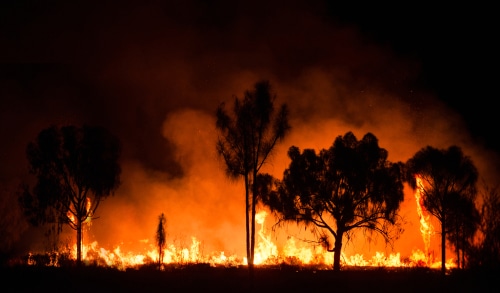 The devastations of wildfire in Australia are ongoing. Australia is the sixth-largest country in the world in terms of its area. It consists of several states including New South Wales, Victoria, Queensland, Western Australia, South Australia, and Tasmania. A huge area of this country consists of forests.
Wildfire is a routine thing in Australia and people face it every year. But the fire that broke at the end of 2019 in Australian forests produced huge devastations and loss of lives. The wildfire broke in the forests of New South Wales in September 2019. The intensity of fire increased with the passage of time. The Australian government advised people to take precautionary measures in December when the intensity of fire rose quickly.
The devastations created by the fire are still unmeasurable. According to the Australian officials and several development organizations, Australia has suffered a huge loss of billions of dollars so far due to the fire. According to Moody's, an international economic organization, Australia has suffered a loss of at least 4.4 billion dollars as of January 8, 2020.
30% of the Australian population has been impacted by the pollution created by the wildfire. According to the media reports, at least 25 people have lost their lives in the events of burning and suffocation. The wildfire has reached other states of Australia as well. The forests of Victoria and Queensland are impacted by the wildfire initiated in the New South Wales forests. The intensity of the fire is rising with the passage of every single day.
In New South Wales, the fire has reached the residential areas and the residents are compelled to leave their houses. The intensity of the fire is at a peak in New South Wales, Victoria, and South Australia. The fire has reached closer to Melbourne, Sydney, and Adelaide. The smoke of the fire has reached these major cities in Australia. The main cause behind the breakage of fire in Australian forests is still unknown.