100K+ Power Outages Across US due to Izzy Storm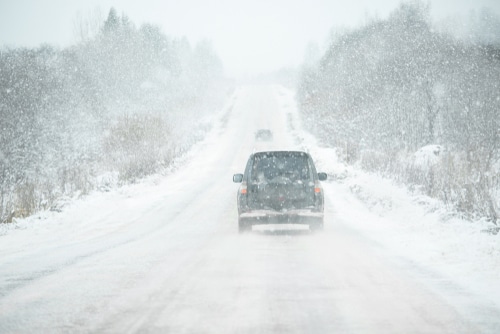 More than 100,000 power outages have been reported across the United States as major winter storm Izzy sweeps through parts of the southeast, bringing chilling temperatures, high winds, inches of snow and ice.
Storm Izzy, which prompted winter storm warnings from the National Weather Service (NWS) for multiple states on Sunday, has left more than 130,000 people without power in North Carolina, South Carolina, Georgia, Pennsylvania and Kentucky, according to poweroutage.us.
North Carolina and South Carolina were particularly hard hit, with 34,566 and 31,922 outages reported, respectively. The remaining outages are in Georgia, with 26,766 reported outages, Pennsylvania with 25,094, and Kentucky, with 18,147, at the time of writing.
The NWS warned on its website Sunday that: "A major Winter Storm will impact the eastern U.S. on Sunday into Monday."
"The highest snowfall totals are expected along the spine of the Appalachians as well as across the lower Great Lakes. The most significant icing is expected over the Carolinas this morning. Significant impacts to travel across these regions are expected," it said in an advisory.
Some parts of North Carolina saw as much as 10 inches of snowfall, according to Brian Hurley, a meteorologist with the Weather Prediction Center, the Associated Press reported.
"It's a very expansive storm," Hurley said. "A lot of real estate is going to get 4 to 8in of snow and a lot more are also going to get some of that ice accumulation."
By mid-afternoon on Sunday, the North Carolina highway patrol had responded to 300 car crashes and nearly 800 calls for assistance, according to spokesman First Sgt. Christopher Knox.
In Raleigh, North Carolina's capital, two 41-year-old South Carolina residents were killed when their vehicle swerved off the road and into trees, Knox added.
According to NWS, a winter storm warning means "significant amounts of snow, sleet, and ice are expected or occurring. Strong winds are also possible. This will make travel very hazardous or impossible."
Those in regions where winter storm warnings have been issued are advised to only travel in emergencies and to prepare for possible power outages.
Winter storm Izzy also saw a large tornado with 118mph (190km/h) winds near Naples, Florida, which toppled a semi-trailer truck on Interstate 75, the NWS said.
Meanwhile, at least 27 buildings were destroyed in Lee County, Florida, amid the harsh weather conditions. Footage on social media showed several waterspouts and flying debris in the county's Fort Myers area.
According to WINK news, as many as 200 people were forced to leave their homes.
The winter storm also disrupted weekend travel, with more than 3,000 flights within, into or out of the United States canceled on Sunday, while over 1,500 flights were delayed, according to FlightAware.com.
"This weekend's winter storm is expected to have a significant impact on our operation, especially at Charlotte International Airport ," American Airlines said in a statement.
As the winter storm now heads northeast, New Yorkers have been warned to "prepare for the worst."
Governor Kathy Hochul said in a statement on Sunday that the state is expected to experience "one of the largest storms so far this winter."
"Our crews are out in full force preparing our roadways and staging critical assets," said Hochul.
She added: "With freezing temperatures persisting and heavy snowfall forecasted, I'm urging all New Yorkers to pay close attention to their local forecasts and avoid unnecessary travel throughout the duration of the storm."
Source: www.newseweek.com