Hundreds of Chicago fast-food employees strike over companies' failure to keep them safe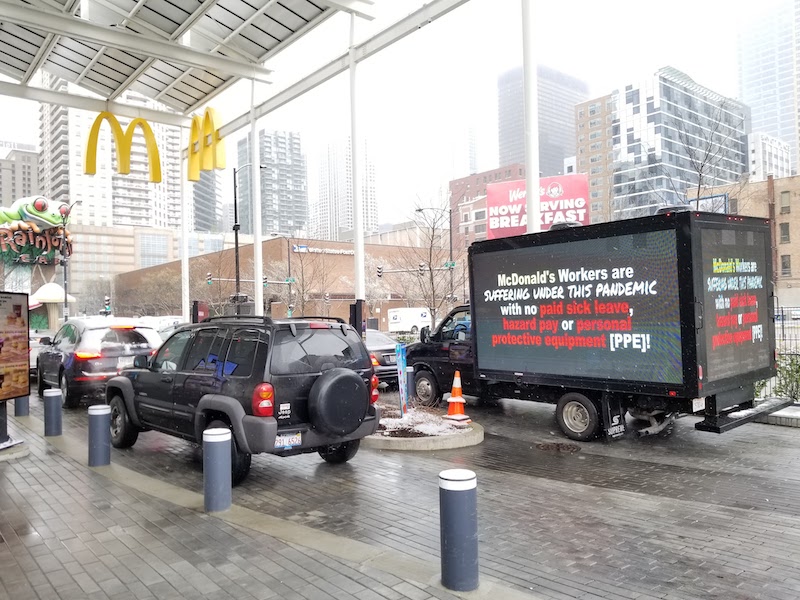 On Wednesday, hundreds of Chicago fast-food workers from more than 50 restaurants went on strike via Zoom in order to demand safe work conditions during the pandemic.
The protesters were inspired by the similar strike in California. However, since all the street gathering is forbidden in Chicago due to the COVID-19 pandemic, McDonald's and other fast-food restaurants' employees protested by taking part in online Zoom meeting that was transmitted to a digital billboard placed on a truck.
The fast-food workers decided to go on strike after McDonald's managers refused to deep clean the restaurant and provide restaurant employees with masks and gloves after one of the workers tested positive for COVID-19. In violation of instructions from the Chicago Department of Health, the McDonald's employers didn't announce the information who was in direct or indirect contact with the sick person and didn't allow workers to self-quarantine.
"The conditions in our store pose an imminent danger to our health and that of our coworkers," the complaint reads. "The managers did not inform all the workers who were in the store during that week and might have had either direct or indirect contact with the sick worker.  And the company has not done any additional sanitizing of the store (beyond the usual daily cleanup) after the company found out about the worker with COVID."
The protesters demanded fast-food restaurants to allow the employees to self-quarantine for two full weeks with pay if they come in direct or indirect contact with someone who is sick. Apart from that, they also demand for safer working conditions, i.e. masks, gloves, hazard pay, and the ability to social distance in the restaurants during the working hours.
"I'm a mom of two. Before this all started, every time I'd come home after my shift, my kids would run up to me and hug me, but now they can't even hug me when I come through the door," said Ieshia Townsend, a McDonald's worker who participated in the Zoom strike line. "Now, with the coronavirus on everyone's mind, I come home and brush past my kids so I can take my clothes off and go take a shower before they touch me.  Every time, I walk out the house to go to work it's a risk."
On Tuesday, McDonald's workers filed a complaint with OSHA's Chicago South Area Office alleging they will be "disciplined or fired" if they prefer to self-quarantine rather than working in risky conditions. It was only when the complaint was filed, that the cashiers and cooks received protecting masks.
The McDonald's workers were joined by employees from Chipotle, Culver's, Taco Bell, Little Caesar's, Starbucks, Subway, Wendy's, Dunkin Donuts, KFC, Pizza Hut, Popeyes, and Burger King to demand for reviewing the working conditions and make the job safer for them and the clients.
"We've been classified as essential workers, which makes sense because right now we're the ones helping to keep our communities and our neighbors fed during this crisis and keeping the economy moving," said Jonathan Taylor, a cook at Little Caesar's. "With all this appreciation, I think it's finally time that we get the respect that we deserve. For so long, people defined us by how much we made and because we are at the bottom of the income bracket, we aren't seen as valuable. I'm on strike today because my company and companies like McDonald's are not doing enough to keep us safe."
A truck with a digital billboard that was showing the zoom picket of fast-food workers drove in a loop along downtown Chicago with several stops near McDonald's restaurants and McDonald's headquarters.