Republican senators: Trump's legal issues won't prevent him from being nominated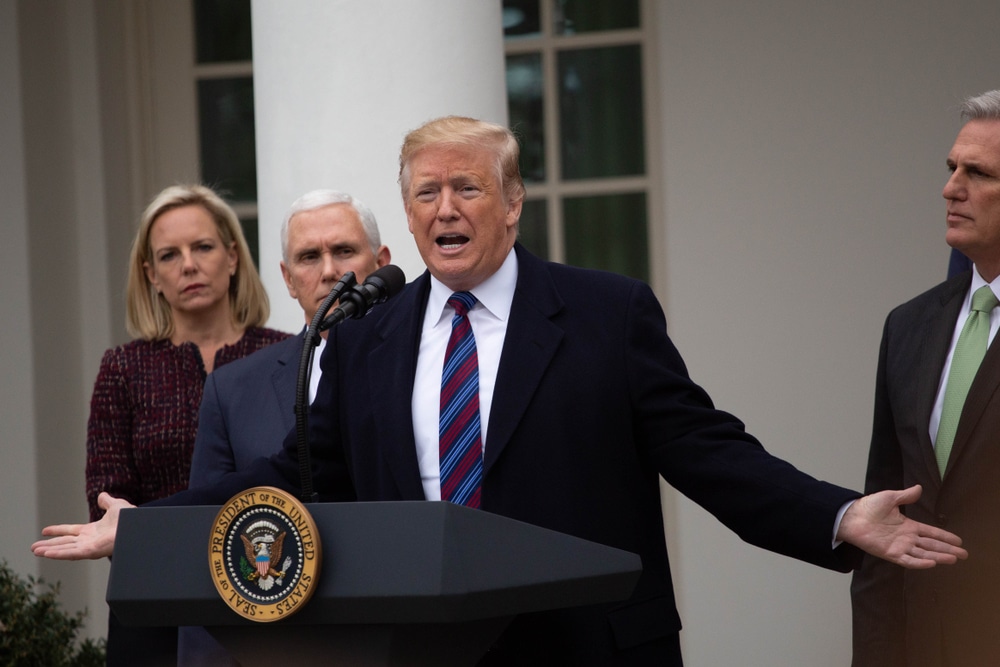 Michael Candelori / Shutterstock.com
Though they worry that the jury judgment finding former President Trump guilty of sexual assault might be a significant barrier to retaking the White House, Senate Republicans assert that his mounting legal issues are unlikely to impede his march to the GOP nominee.
They asserted that the former president's legal dispute with Manhattan District Attorney Alvin Bragg pales in comparison to the seriousness of the New York jury's decision that Trump sexually assaulted E. Jean Carroll in the middle of the 1990s and the potential harm it may have caused to his reputation with swing voters.
But even the most outspoken Republicans who oppose Trump expect that the Republican primary voters who have supported him through several storms of criticism and scandal won't be badly hurt by it.
"I don't know that it changes his lead in the polls. I think that's unlikely," Sen. Mitt Romney (R-Utah) said of last week's verdict. "I think he'll continue to lead in the Republican primary polls.
"I've been predicting that he will the nominee for a long time. I continue to predict that," he added.
The $5 million judgment against the former president for sexual assault and slander, according to Senate Republican Whip John Thune (S.D.), who has occasionally criticized Trump, won't have much of an impact on Republican primary voters.
"I think people's views of him — particularly among his hardcore supporters — are baked in," he said.
Thune cautioned that Trump's popularity with swing voters may worsen if a jury found him guilty of sexual assault.
"From a short-term perspective, maybe it works for him. But in the end, to win a general election, you got to win the voters in the middle. And I think that kind of rhetoric makes that more challenging," he said.
next the jury's ruling, Trump made no attempt to apologize; instead, he mocked Carroll during a CNN town hall the next day in New Hampshire.
When CNN's Kaitlan Collins questioned Trump about voters who believed the outcome should prevent him from being re-elected, he joked: "Well, there weren't too many of them because my poll numbers came out. They rose, alright?
RealClearPolitics.com's analysis of recent national polls shows that Trump has an average lead of 34 points over his closest challenger, Florida Governor Ron DeSantis (R).
In a May 3–5 I&I/TIPP survey of 469 Republicans and lean-Republicans, Trump received 55% of the vote, while DeSantis received 17%.
According to the survey, Trump is doing better than in April, when DeSantis had 23% of the vote and Trump had 47% support.
In a fictitious battle, according to a National Research Inc. poll of 500 likely Republican voters in Iowa, the state that would hold the first GOP presidential primary in 2024, Trump would defeat DeSantis by 18 points (44 percent to 26 percent). The Center for American Greatness ordered the poll.
DeSantis visited Iowa this past weekend and actively courted the support of Republican authorities there. He is likely to officially start his presidential candidacy in the coming weeks.
Even in Florida, Trump is defeating DeSantis. In a different National Research Inc. survey commissioned by the Center for American Greatness, Trump was in the lead in the Sunshine State by 8 percentage points, 42 percent to 36 percent.
In the Florida Republican primary, Trump led DeSantis by just 3 percentage points, according to a mid-March survey by Emerson College.
Sen. Mike Rounds (R-S.D.) agrees with Senate GOP colleagues who don't believe that Trump being found guilty of sexual assault would impact the race. Rounds says he is looking for someone other than Trump to be the party's standard-bearer in 2024.
"A lot of it has been baked in," he said.
However, according to Rounds, the jury's decision was more serious than Bragg's accusation that Trump had fabricated New York company documents, which "the vast majority of us saw as an inappropriate thing with very little substance."
"Republicans who may very well disagree with the former president saw the substance of [Bragg's] prosecution as being inappropriate or untimely," he said.
The CNN town hall, in Rounds' opinion, demonstrated that "the former president can still command an audience, and at the same time, there are a lot of Republican and probably independents that agree" with Trump on "policy substance."
"He spoke very clearly about the problems with inflation and he's right that under previous administrations, we had a lot better economy going forward with regard to inflation," he added.
"Title 42 and the issues on the border clearly work in his favor. I thought he was in command of a lot of the stuff there."
Rounds expressed the same worries as his colleagues about the likelihood that Trump would defeat Biden in a subsequent general election contest.
"It's one thing to win the nomination, it's another thing to win the general election. There are a lot of us that are still interested in nominating someone who can win the general election," he said. "I think that's going to happen. I think we're going to have some people in the party come forward who can win in a general election who can also win the Republican primary."
During a weekend visit to Iowa, DeSantis sought to capitalize on concerns that Trump can't defeat Biden by promising to have a solution to what he dubbed the Republican Party's losing trend in 2020 and 2022.
"We must reject the culture of losing that has impacted our party in recent years. The time for excuses is over," DeSantis said, alluding to Trump's unceasing complaints about the outcome of the last presidential election.
"If we get distracted, if we focus the election on the past or on other side issues, then I think the Democrats are going to beat us again," he said.