Lightfoot says Chicago is still "Welcoming City" for refugees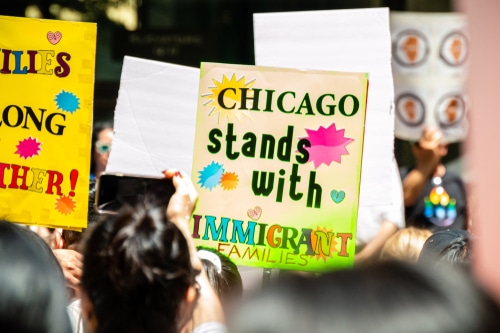 Lori Lightfoot, the mayor of Chicago, reaffirmed the status of Chicago as a "Welcoming City" for refugees. President Trump issued an executive order in September to the mayor. Lightfoot said that she sent a letter to the federal government in reply to the executive order. Lightfoot announced on Tuesday that Chicago would continue accepting and resettling refugees.
Lightfoot said in a statement, "As a Welcoming City, Chicago is proud to submit our letter of consent to the State Department." The letter of consent assured that the doors of Chicago were opened for the refugees and they would stay open. The refugees need to get an opportunity to get a new home in the great US, according to Lightfoot.
Lightfoot added, "It is especially fitting that we do so during this holiday season as we extend the blessings we received to those most in need." She criticized the Trump administration and said that the Trump administration continued to undermine the heritage of the US as a nation of immigrants. She added that Chicago would continue to facilitate and help the immigrants coming there.
JB Pritzker, the governor of Illinois, also sent a letter of consent to Mike Pompeo, the Secretary of State, a week ago. He said that Illinois would continue welcoming the immigrants. He said, "I extend a warm welcome to refugees who have come and will be coming to Illinois." Pritzker and Lightfoot are the long-term supporters of the immigrants. The state of Illinois welcomed more than 130000 refugees since 1975.
Lightfoot told the media that 1000 to 3000 immigrants were still coming in the state of Illinois each year in recent years. Pritzker said, "As the governor of Illinois and the great-grandson of refugees, I am committed to ensuring that Illinois is a welcoming state for refugees." Chicago has proven itself a Welcoming City for the refugees in the past and it will continue to do so, according to Lightfoot.