Chicago's Mayor cheered on sanctuary cities ruling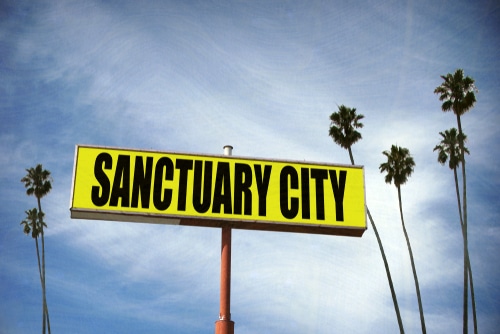 Chicago's Mayor Lori Lightfoot has revealed that she literally cheered when a court ruling protected the self-declared sanctuary city from retribution by the Trump administration. For years now, President Trump has threatened to stop the federal funding from Chicago over its status as a sanctuary city. Rahm Emanuel, Lightfoot's predecessor, had moved that out of hand. Still, the U.S. Justice Department had moved to deny the city federal funds for law enforcement over its stand welcoming immigrants.
Lightfoot told reporters Thursday, "When I got the news from our corporation counsel earlier this morning, I let out a cheer." She issued a formal statement later that day as she cited Emanuel, "Mayor Rahm Emanuel began this battle, and my administration has continued to fight hard to ensure we receive the funds we are entitled to without bending to the political agenda on immigration that the Trump administration is trying to force upon us as a Welcoming City."
According to Chicago's Law Department, the Trump administration moved in 2017 to deny the city funding under the Justice Assistance Grant program, "which is money earmarked for community policing efforts and other public safety measures and which was created in 2005." Those funds were designated for "ShotSpotter technology, which is used to identify the location of shooting incidents and direct rapid police responses to them," as murders spiked across the city.
The Law Department charged that "since 2017, the Justice Department has sought to impose immigration-related conditions in order for state and local governments to get the funds." Emanuel was adamant that it was illegal, and his successor continued fighting the case against U.S. Attorney General William Barr.
On Thursday, the U.S. Seventh Circuit delivered a rebuke to the Trump administration, ruling that "the attorney general cannot pursue these policy objectives of the executive branch through the power of the purse or the arm of local law enforcement."