"Midday Spray" & Other Events to be Continued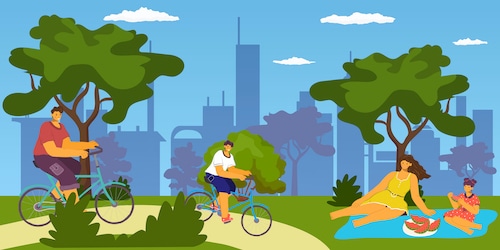 Naperville Park District's sprinkler event for kids at Rotary Hill, Midday Spray will continue throughout August. The event was launched on July 9. The new weekday event gives kids a fun way to cool off in a refreshing spray. The sprinkler runs at Rotary Hill situated at 443 Aurora Avenue, Monday-Friday from 11:00 a.m.-1:00 p.m., weather and turf conditions permitting.
The families can bring a picnic lunch and sit under the tree. The event is free thanks to the sponsors. Dr. Chahla, orthopaedic surgeon at Midwest Orthopaedics at Rush will present the week of July 27. Eagan and Company, Certified Public Accountants will present the month of August. Through August, weekly recitals at the Naperville Millennium Carillon in Moser Tower.
Naperville City Carillonneur Tim Sleep will be the feature of the Summer Pops Recital Series. It will be presented each Saturday evening at 7:00 p.m. Each Saturday at noon and Sunday at 4:00 p.m. local carillonneurs will give concerts. Lawn seating is available on Rotary Hill. The music can be heard and enjoyed as you walk nearby on the Riverwalk.
Two movies will be hosted by Rotary Hill in the Park District's outdoor movie series, A Night at the Movies. "Frozen II" is set for Friday, July 31 at 8:30 p.m. and "Wonder" will be shown on Friday, August 21 at 8:00 p.m. "Captain Marvel" will be the last movie of the season. It will move to the 95th Street Community Plaza, located at 3109 Cedar Glade Drive, on Friday, Sept. 11 at 7:30 p.m.