Rain, snow halts corn comeback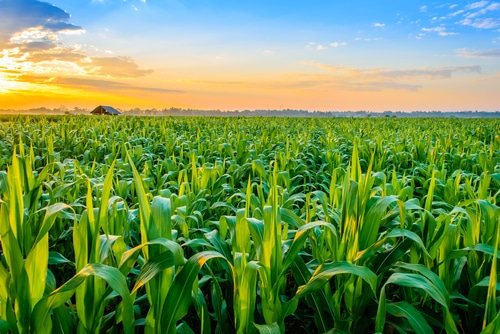 Rain and snow once again delay the harvest of corn as more than half of the state crop are in. The harvest had already been delayed as it reaches the halfway point last week. The weekly U.S. Department of Agriculture Crop Progress report released Monday which reveals that as of Sunday, the state's 54 percent of the crop had been harvested.
The 54-percent is a major improvement than the 36-percent registered a week before. However, these figures are nowhere near the 88-percent mark that was registered this time around last year. The average percentage over the last five years is 80 percent, but ahead of the national figure of 41 percent posted in the 18 states that comprise 94 percent of all U.S. corn acreage.
Rain had been keeping farmers out of the fields and to make things worse, snow had joined in northern Illinois this week ahead of Halloween. A mature corn crop is immune to freeze typically. According to the USDA report, Illinois' crop is 93 percent mature rising from 88 percent of last week. But according to the last five years data, all the crop should have been matured by now.
Moultrie County farmer Lucas Roney told FarmWeekNow.com that "We'll need a couple weeks of good weather to finish harvest." There is good news for the harvesters as the condition of the crop has improved. According to the Crop Progress report, 47 percent of Illinois crop was rated good, 8 percent excellent, 32 percent was rated fair, 9 percent poor, and 4 percent very poor.
The soybean harvest was declared over by many Illinois farmers. However, only 69 percent of the crop was in a rise from 52 percent last week. Nationally, in the 18 states that comprise 96 percent of U.S. soybean acreage, 62 percent of soybeans were harvested, behind the five-year average of 78 percent.