Seesaws installed along U.S-Mexico border wall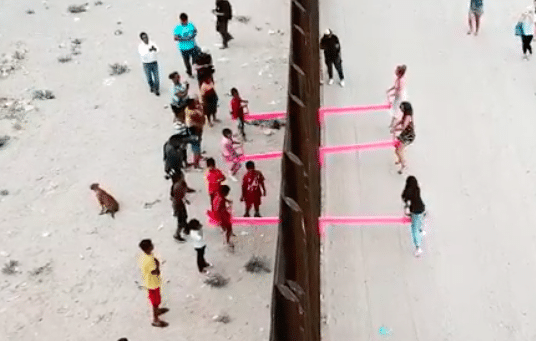 Two California professors have installed seesaws at the United States-Mexico border. They have installed the seesaws to enable kids from both countries to play with each other. The professors had come with the idea for a "Teetertotter Wall" in 2009.
Ronald Rael is an architecture professor at the University of California, Berkeley and Virginia San Fratello, an assistant professor at San José State University in California. Their idea had come to life after 10 years at an event on Monday in Sunland Park, New Mexico. They saw three bright pink seesaws or teeter-totters were added to the giant steel border wall.
The seesaws had stretched into Ciudad Juárez, Mexico. Rael had written on Instagram that, "One of the most incredible experiences of my and @vasfsf's career bringing to life the conceptual drawings of the Teetertotter Wall from 2009 in an event filled with joy, excitement, and togetherness at the borderwall." He added that the wall had become a barrier between US and Mexico's relationship. He said that we must understand that actions on one side have direct consequences on the other side as well.
One video was shared on Rael's Instagram page, in which several children are happily playing on the seesaws with each other. Another video showing people waving to children in Ciudad Juárez. Donald Trump had pushed for building a wall between U.S. and Mexico. He had a slight victory on that front.
On Friday, the Supreme Court cleared Trump to tap into the Defense Department's $2.5 billion counter-drug money to build more than 100 miles of the wall. Trump enjoyed that clearance and he showed his excitement via Twitter: "Wow! Big VICTORY on the Wall. The United States Supreme Court overturns lower court injunction, allows Southern Border Wall to proceed. Big WIN for Border Security and the Rule of Law!"