Ship carrying Rohingya immigrants drowns in Bay of Bengal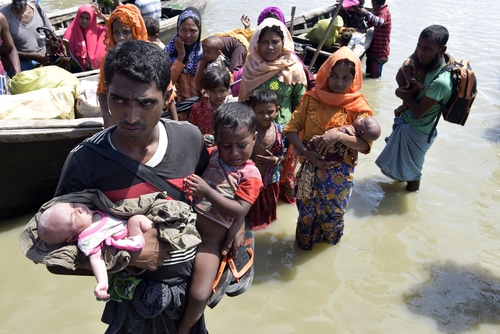 Sk Hasan Ali / Shutterstock.com
A ship carrying Rohingya immigrants from the Bangladeshi camps drowned in the Bay of Bengal. According to the sources, there were more passengers on the ship as compared to the capacity of the ship. The ship was carrying 138 passengers and 15 people lost their lives in the incident. According to the report of Associated Press (AP), the dead bodies of 15 people have been recovered by the Coast Guards and Navy divers.
Noor Ahmad, a higher official of Saint Martin Island, said that the ship drowned outside the island and it was made up of wood. He added that 71 immigrants had been rescued so far during the rescue operation. It is still unclear how many more people are missing. According to Noor Ahmad, the passengers were going to Malaysia after being trapped by the human smugglers.
Ahmad added that the rescue was continued and it was not clear how many people were still missing. Najma Begum, a 26-year-old Rohingya immigrant, said that she was going to Malaysia to meet her fiancé. She said, "I have been engaged to a Malaysian resident named Rafiq and I was going to meet him because he could not come here."
Begum added that she wanted to go by air to Malaysia initially but she decided to go by water as many people had already gone to Malaysia by water. The human smugglers trap immigrants by showing them a bright future. The United Nations (UN) and Bangladeshi government are working on giving awareness to the immigrants about the dangers of traveling to foreign countries by water.
The UN agencies said that they were working on improving the skills of authorities that prevented human smuggling. More than 700000 Rohingya Muslims migrated to Bangladesh from Myanmar in 2017 after a military crackdown. According to the Myanmar government, the minority Rohingya Muslims came illegally to Myanmar from Bangladesh. However, the Rohingya Muslims have been living in Myanmar for several decades.