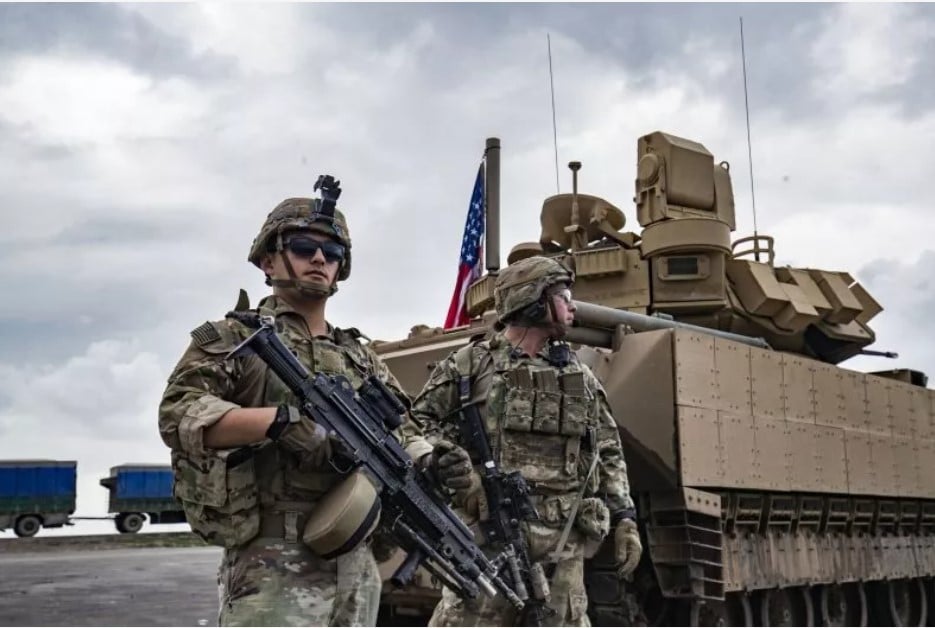 DELIL SOULEIMAN/AFP/GETTY IMAGES
U.S. forces deployed around the Middle East are keeping an eye out for Iranian-backed militias that might create new fronts in the worst Israeli-Palestinian conflict in decades.
According to a U.S. Central Command official, "we are monitoring across the region for any indicators or warnings that these groups would consider adding to or entering this conflict in a way that escalates it."
For this reason, the spokeswoman claimed, "we adjusted our posture."
Defense Secretary Lloyd Austin made an announcement on fresh military actions intended "to bolster regional deterrence efforts" on Sunday, one day after the unexpected land, air, and sea strike against Israel on Saturday that was spearheaded by the Palestinian Hamas movement. The USS Gerald R. Ford Carrier Strike Group was sent to the Eastern Mediterranean as part of this, and the Israel Defense Forces (IDF) received increased supply of resources and equipment.
The spokesman for CENTCOM refused to discuss "specific force protection measures or future operations," but they did state that "we remain concerned about Iranian supported militia groups and that we continue to take appropriate measures to ensure the security of U.S. military personnel."
The United States has more than 30,000 troops in the Middle East as of January 2022, one year into President Joe Biden's administration, with about 2,500 in Iraq and 900 in Syria. According to the most recent information from the Pentagon's budget proposal for fiscal year 2024, which was presented in March, there were 3,400 personnel supporting operations in these two nations in fiscal year 2022 and 3,949 in fiscal year 2023, with a request to reduce that number to 3,558 in the next fiscal year.
Under Biden and his predecessor, former President Donald Trump, U.S. airstrikes on the locations of the organizations on multiple occasions resulted from the presence of Iran-backed militias in Iraq and Syria that periodically threatened American forces.
While no assaults have come close to matching the entire operation carried out by Hamas against Israel over the weekend, militias in Iraq and Syria thought to have ties to Iran have sometimes carried out their own complex assaults using rockets, drones, and small arms fire.
Several of these primarily Shiite Muslim militias, including Asaib Ahl al-Haq, Kataib Hezbollah, Kataib Hezbollah al-Nujaba, and Kataib Sayyid al-Shuhada, all of which are based in Iraq but are also known to be active in Syria, have expressed ardent support for Hamas and have even considered joining the conflict, possibly by launching attacks against U.S.
Since the aftermath of the American-led invasion of Iraq two decades ago, when competing Sunni and Shiite Muslim militias rallied against one another and American forces, Iraqi militias have a long history of attacking American troops. Iran increased its support of allied forces to fight the jihadis and support Syrian President Bashar al-Assad in his fight against them and a variety of other mostly Sunni Muslim rebel organizations after the Islamic State terrorist group (ISIS) formed from the chaos.
Hamas, a Palestinian movement, was first repelled by this action as a Sunni Muslim organization, but it has since strengthened connections with Iran and its supporters in order to oppose Israel.
The most recent surprise strike by Hamas has also received acclaim from Tehran, and the Iranian Mission said on Wednesday that the Islamic Republic has given Palestinian forces the "skills" necessary to carry out such a catastrophic operation. Later that day, a Hamas spokesperson in Lebanon informed the media that the organization was actively coordinating with Iran and other "Axis of Resistance" troops "before, during, and after this battle," although the Iranian Mission flatly denied that Iran had any involvement in it.
Iranian involvement in the Hamas attack was not clearly demonstrated, according to U.S. and Israeli authorities.
Although Iranian authorities have advocated for the removal of American soldiers from Iraq and Syria, the Iranian Mission has denied that it was sponsoring militia operations against American forces in both countries. The Syrian government, which is still firmly in Assad's hands, has also frequently called on the United States to leave the region.
In a phone chat on Thursday, the Syrian president and his Iranian counterpart, Ebrahim Raisi, reaffirmed their shared support for Palestinians who are currently the targets of Israel's largest-ever bombing assault against the Gaza Strip. They also called for Arab and Muslim solidarity against Israel.
The CENTCOM official stated that the United States was employing a multi-pronged strategy to strengthen deterrence as the regional repercussions of the Hamas attack and Israel's still-developing war against Gaza continue.
"What we're doing across the U.S. government is, one, flooding the zone with high-level phone calls and engagement to make clear our desire to contain this conflict, support the defense of Israel," the spokesperson said. "So, we are postured in monitoring, for any adversary, that would consider entering this conflict and escalating it."