Biden touts investments from the bipartisan infrastructure law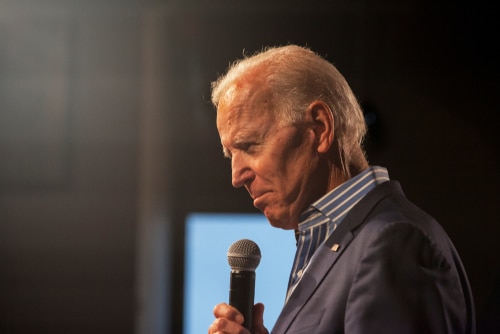 Michael F. Hiatt / Shutterstock.com
President Biden on Wednesday made an appeal to the value of bipartisanship during a trip to Kentucky, providing a stark split-screen moment with the chaos unfolding in the House back in Washington, D.C.
Biden delivered remarks in the shadow of the Brent Spence Bridge, which connects Kentucky and Ohio over the Ohio River, to tout investments from the bipartisan infrastructure law he signed in late 2021 that would improve local traffic and commerce.
But the speech was more broadly a nod to the president's belief in collaboration and reaching across the aisle at a time when Republicans have been unable to muster the votes with their new majority to elect a Speaker in the House.
"I wanted to start off the new year at this historic project here in Ohio and Kentucky with a bipartisan group of officials because I believe it sends an important message, an important message to the entire country," Biden said. "We can work together. We can get things done. We can move the nation forward if we just drop a little bit of our egos and focus on what's needed in the country."
Biden was joined by Senate Minority Leader Mitch McConnell (R-Ky.), Sen. Sherrod Brown (D-Ohio), recently retired Sen. Rob Portman (R-Ohio), Ohio Gov. Mike DeWine (R) and Kentucky Gov. Andy Beshear (D) to announce new funding for the bridge.
Biden repeatedly praised McConnell, a rival of Democrats for decades who many on the left see as a symbol of GOP obstructionism.
"I'm especially happy to be here with my friend and colleague of many years, and I might add the longest serving leader in the United States Senate," Biden said, recognizing McConnell.
The president went on to note that he and McConnell don't agree on everything but said the senator is "a man of his word" who is "willing to find common ground to get things done."
Biden credited McConnell, Brown and Portman for their work on the bipartisan infrastructure law, which contained roughly $1 trillion to fund roads, bridges, railways and other major projects across the country.
More than $1 billion in funds will go toward upgrades and repairs for the Brent Spence Bridge, which has been decaying for years. The money will be used to upgrade the existing structure and build a new bridge next to it that will improve traffic on the Interstate 71 and Interstate 75 corridor, which is a major freight route from Canada to Florida.
The second bridge will alleviate local traffic jams, Biden said, and allow tractor-trailers to flow more freely as they transport cargo and goods.
While Biden was in Kentucky, Vice President Harris was in Illinois to speak about infrastructure funds that will be used to rehabilitate drawbridges that cross the Calumet River near Chicago, allowing for easier movement of marine traffic and port traffic.
Transportation Secretary Pete Buttigieg was in Connecticut on Wednesday to highlight infrastructure investments in the Gold Star Memorial Bridge, which carries I-95 traffic over the Thames River and connects New York and New England.
The travel, and the focus on a bipartisan piece of legislation, comes while the House GOP caucus is engulfed in drama in Washington, D.C.
As Biden was speaking in Kentucky, House Republican Leader Kevin McCarthy (Calif.) again failed to hit the majority required to be elected Speaker. It was the fourth ballot cast by lawmakers to attempt to elect a Speaker since Tuesday. No Speaker election had gone past a first ballot in 100 years.
Upon leaving the White House for Kentucky, Biden called the inability to elect a leader in the House "embarrassing" but said he would remain focused on promoting his agenda and getting things done.