Former US President hospitalized for a brain surgery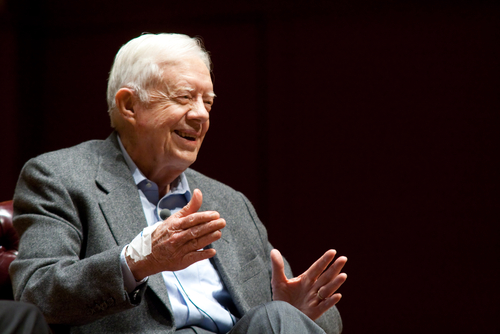 Nir Levy / Shutterstock.com
Jimmy Carter, former US President, was admitted to the hospital for brain surgery. He was recovering in a hospital in Atlanta. He has undergone a procedure that was intended to relieve pressure on his brain. The pressure was caused due to the bleeding from recent falls, according to the doctors at Carter Center.
Carter and his wife, Rosalynn, founded the non-profit Carter Center in Atlanta in 1982. The Carter Center tweeted, "There are no complications from the surgery." The center added that he would remain in the hospital as long as advisable for observation. The hospitalization of Carter was announced on Monday by his spokeswoman, Deanna Congileo. She did not give more details about the procedure.
Carter is the longest living president of the US. He is suffering from severe health issues. He fell and injured several times in recent months. He fell in May and broke his hip. He fell two times last month. On the first occasion, he received 14 stitches while he fractured his pelvis on the second occasion. He said, "I did not ask God to let me live, but I just asked God to give me a proper attitude towards death."
He served as the 39th president of the US from 1977 to 1981. He was determined to restore the trust of the public in government after the Vietnam era. He was the broker of the peace agreement between Israel and Egypt. He could not bear the Iran hostage crisis and lost against Ronald Reagan. He got the Nobel Peace Prize in 2002. It was a great honor for him after his re-election defeat.
Carter set up a center after leaving the president post. He was focused to promote conflict resolution, democratic election monitoring, and other humanitarian causes. He became the longest living president of the US in March. He said that he found that he was absolutely and completely at ease with death." The Carter Center said that it would keep him in the hospital for some time until he would get improve.