Hill's Campaign Report: Will Lightfoot survive next month's election?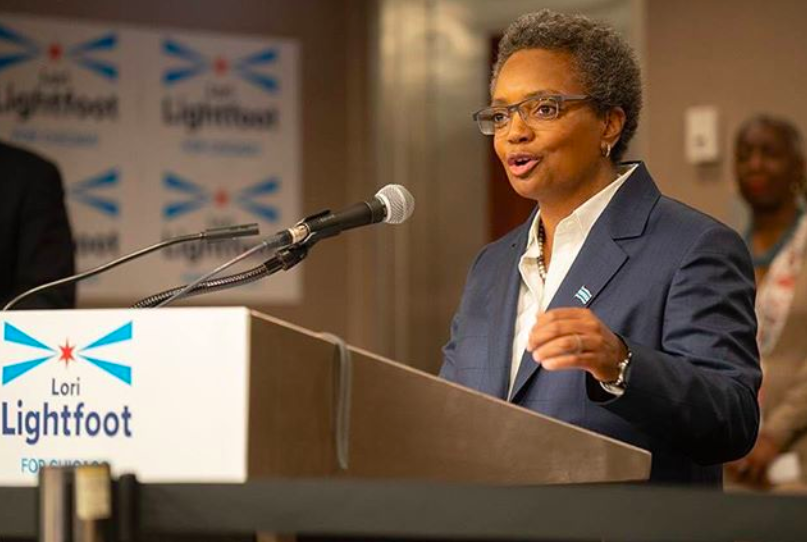 Instagram – @lightfootforchi
Welcome to The Hill's Campaign Report, tracking the latest news on campaigns and elections
Will Lightfoot survive next month's election?
Close to four years ago, Lori Lightfoot (D) campaigned as a changemaker and reformer in Chicago's mayoral race, defying expectations when she made it into the April runoff in 2019 even as she trailed other big names in polling.
Fast forward to 2023, and the mayor now finds herself in a familiar position — as the underdog – as she competes against eight other candidates to keep her spot as the city's top leader.
Politicos tuned into the race told our Caroline Vakil ahead of the candidates' first televised debate tonight that Lightfoot is battling two things: crime, or the perception that it's getting worse, and her combativeness in managing relationships with city and state officials. And while her administration is seeking to remind voters of her record in her first four years, strategists say it'll be an uphill climb for the mayor.
Who's in the ring: Among those seeking to oust the mayor include Rep. Jesús "Chuy" García (D), former Chicago Public Schools CEO Paul Vallas, Cook County Commissioner Brandon Johnson (D) and Alds. Sophia King and Roderick Sawyer.
Strategists say Lightfoot's No. 1 priority in the Feb. 28 election is to make it into the April 4 runoff. A candidate needs more than half the vote in the February election to avoid the April runoff, which looks unlikely for any candidate at this point. But strategists suggest if she can overcome that first hurdle, she could have a better shot toward reelection.
"The path for her is to have the right candidate" to run against, veteran political operative Victor Reyes, who's a supporter of García, told Caroline, adding: "If she makes the runoff with certain candidates, her chances improve dramatically."
But 2023 is not 2019. Unlike four years ago, Lightfoot is not entering the race as a political outsider. And while the mayor benefited from the political ramifications of the indictment of a longtime powerful alderman, whom several candidates had ties with, it's not clear that she'll be able to rely on a favorable political environment again.
All bets are off: Still, observers are also cautioning against betting against Lightfoot, who still enjoys the major advantage of incumbency.
"The mayor is in there with 99 percent name I.D. Most have an opinion of her that's baked in," Zach Koutsky, a city lobbyist who's worked on Democratic and progressive campaigns, told Caroline. "It's the others that are ill-defined at this point that creates an opportunity for her and for those candidates to introduce themselves or be defined by others."
The first televised debate for Chicago's mayoral race will air live starting at 8 p.m. ET.
Indiana Senate GOP primary riven by division
With one declared candidate so far, divisions within Indiana's GOP are already emerging in the 2024 Senate primary.
Rep. Jim Banks's (R) video announcing his bid runs the Republican gamut from border security and holding China accountable to keeping "girls' sports for girls" and stopping "critical race theory and anti-Americanism." Sen. Mike Braun (R) is vacating the seat to run in the open gubernatorial race. Gov. Eric Holcomb (R) is term-limited.
Banks has support from the Club for Growth, which last week released an ad against former Gov. Mitch Daniels, who told Based in Lafayette he was considering a Senate bid. The ad calls Daniels an "old guard Republican clinging to the old ways of the bad old days," criticizing, among other things, Daniels's previous position as Purdue University president and the Committee for a Responsible Federal Budget, which Daniels co-chairs.
In addition, Banks told Politico, "I'll never be calling for a truce on social issues or cultural issues." Daniels called for such a truce more than a decade ago, saying the party should focus on immediate fiscal issues.
Rep. Victoria Spartz (R) is another potential candidate; she commissioned a poll in December that found Daniels in first and herself and Banks about even behind him.
Senatorial splits: Indiana's two Republican senators voted differently on major legislation at the end of last year, examples representing "a larger divide between moderate conservatives and far right conservatives within the Indiana GOP," Elizabeth Bennion, Indiana University South Bend chancellor's professor of political science, told The Hill in an email.
Sen. Todd Young supported the National Defense Authorization Act (NDAA), the omnibus spending package and the Respect for Marriage Act. Braun voted against all three.
In the House, Banks opposed the omnibus and the marriage bill and supported the NDAA.
State splits: Last year, the legislature overrode Holcomb's veto of a bill banning transgender girls from girls' school sports.
Bennion pointed to the recent legislative fight over whether to include exceptions in the state's abortion ban and clashes between Holcomb and the legislature around COVID restrictions as other examples of GOP disagreement.
"When a party is part of the minority or facing stiff competition for majority status, there is a lot more pressure to present a unified front," whereas Indiana Republicans "feel some leeway to disagree, and to do so publicly," Bennion wrote.
She said the party's electoral strength in the state, plus the open statewide races, will likely lead to competitive primaries that accentuate candidate differences.
THE 5 STATES WITH SPLIT DELEGATIONS ALL HAVE 2024 ELECTIONS
Five states — a historically low number — have senators from different parties, and all five hold Senate elections in 2024.* Recent election results underscore the tough map Democrats face.
Democratic senators are up for reelection in Montana, Ohio, West Virginia and Wisconsin, and Maine's Angus King (I) caucuses with Democrats. Democratic senators in Montana, Ohio and West Virginia are the only statewide elected Democrats in their states.
Maine — Sen. Angus King (I)
King was first elected in 2012. He hasn't announced a reelection bid, but according to WMTW, communications director Matthew Felling said King "feels there is still plenty of work to be done." Maine was the only state in the last two presidential election years to favor a Senate and presidential candidate from different parties, reelecting Collins in 2020 while supporting Biden.
Montana — Sen. Jon Tester (D)
Tester, first elected in 2006, hasn't committed to running again. Republican Reps. Ryan Zinke and Matt Rosendale (Tester's 2018 challenger) are possible contenders, Caroline Vakil wrote. Donald Trump (R) and Sen. Steve Daines (R) easily won their elections in the state in 2020.
Ohio — Sen. Sherrod Brown (D)
Brown has been in the Senate since 2007 and is running for reelection. Republican state Sen. Matt Dolan announced his bid this week. Dolan placed a close third in last year's Senate primary, where he was the only major candidate critical of Trump's 2020 election claims. Trump won the last two presidential elections in the state.
West Virginia — Sen. Joe Manchin (D)
Manchin was elected in 2010 and hasn't announced a decision about seeking reelection. Rep. Alex Mooney (R) is running for Senate. Mooney had Trump's backing when he ousted Rep. David McKinley in a GOP primary after redistricting left the state with one fewer congressional district. Trump and Sen. Shelley Moore Capito (R) both won in blowouts in 2020.
Wisconsin — Sen. Tammy Baldwin (D)
Baldwin, first elected in 2012, also hasn't said whether she's running. With very close races for both Senate and president in recent years, it's a race to watch.
*We didn't include Vermont, where Sens. Bernie Sanders (I) and Peter Welch (D) both caucus with Democrats, or Arizona, where former Democrat Kyrsten Sinema switched to independent but is not caucusing with Republicans.
Source: thehill.com