Intense flood situation in China, 33 rivers are on their highest level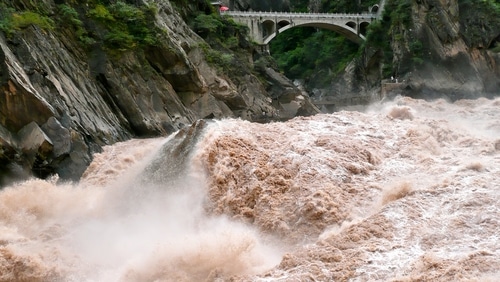 China is facing the worst flooding in the last 30 years. 33 rivers in China have reached their historically highest level. According to the media reports, 141 people have lost their lives so far due to the rain and flood situation. Ye Jianchun, the vice-minister of water resources of China, said in a media briefing that 433 rivers in China had crossed their dangerous level after the beginning of the rainy season on June 1.
Dongting Lake, Lake Tai, and Poyang Lake have also crossed their alert level, according to Reuters, an international news agency. Jianchun added that a decrease in flood situations would occur from the end of July to August. The flood situation of Lake Tai and Yangtze River will take more time to normalize. Jianchun said that the rainy season would move towards northern areas after damaging the central areas.
According to the historic stats, China is experiencing the highest rainfall since 1961. According to Xinhua, a Chinese state-run news agency, said that the level of Yangtze River had dropped from 28.77 meters to 28.74 meters. The level of 28.77 meters was the highest level of this river historically. The Emergency Ministry told the media on Friday that 141 people died or reported missing due to the extreme flooding.
The Ministry predicted a loss of at least $8.57 (USD) to China from this flood. The rescue officials have already issued a red alert warning in Poyang Lake. Chinese army and rescue departments placed sandbags on the banks of rivers to minimize the effects of flooding. The crew members of rescue teams were finding the missing persons by using rescue boats.
According to the Ministry of Water Resources of China, the water level in 3 reservoirs has crossed the emergency limit. The Weather Department of China said that the impact of flooding would remain in the eastern and central areas of China. The rainfall will temporarily reduce in the southwestern areas of the country, the weather officials said.