Nearly hundreds of flights were canceled in Chicago due to snowfall conditions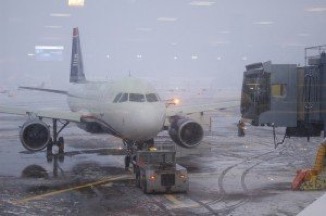 Snowfall, up to half of an inch, is possible in Chicago. Subzero condition in this region makes travel and shipment difficult. Nearly, 261 flights were canceled at O'Hare International Airport and 77 were canceled at Midway Airport till 06:45 a.m.
According to the weather forecast, on Tuesday, there is warning for ice storm till 09:00 a.m. for Illinois counties DeKalb, Kane, LaSalle, Cook, Grundy, Will and Kendall along with Lake County in Indiana. This weather forecast will also remain affected throughout the midnight for Lake and McHenry counties.
Icy conditions and strong winds are expected to the potential threat for power cutoffs, especially in the region of high snow accumulation.
These weather conditions have made life difficult for residents of these areas. As they cannot travel and more than 300 flights were canceled.