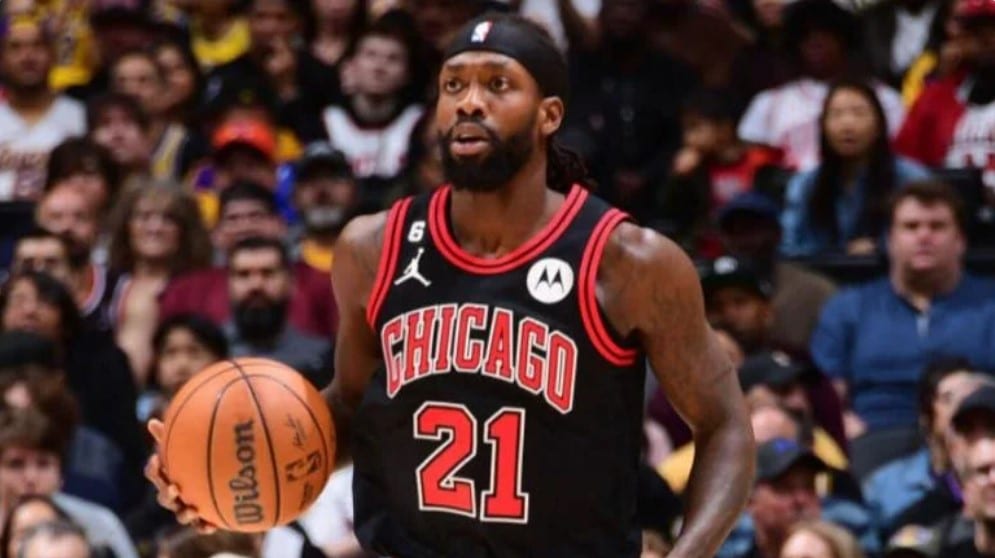 Getty Images
After missing 13 games and raising concerns that he might be sidelined for the remainder of the season, LeBron James shocked the Los Angeles Lakers' supporters by playing again.
The 38-year-old had been out since February 28 due to a foot injury, and a sports therapy expert had warned that forcing him to return too soon after suffering a tendon strain would result in an unfit James. However, James returned, and on the court, a former teammate made fun of him.
Prior to being moved to the Orlando Magic and finally ending up with his hometown team, the Chicago Bulls, 34-year-old Patrick Beverley played for the Lakers.
After getting even with his previous team, he didn't hold back, aiding the Bulls in their 118-108 victory and serving as a warning to James.
Beverley took tremendous joy in giving the "too little" celebration in front of the basketball legend after making a basket for two points in a one-on-one with James that left the NBA's leading scorer glued to the floor.
Beverley is 6-foot-2 while James is 6-9, so it was a cutting move as the Bulls grew comfortable in the fourth quarter.
Beverley made fun of the celebration after the game, claiming that James wasn't the only one who experienced similar behavior after scoring.
Everyone gets it from me, Beverley remarked. "I was merely having fun and losing myself in the game. Just having fun and getting immersed in the game. We don't work in construction."
He went on: "We aren't guys that need to wake up at four in the morning. We play basketball professionally. Fun is the most important thing. That's what we attempted to do tonight—at least, that's what I attempted to do."
Beverley discussed playing his previous team and how much he appreciated seeing them and his old coach, Darvin Ham, again.
"I was just playing basketball, trying to lose myself in basketball," he claimed. Yes, it was enjoyable, man. Today was enjoyable. Seeing some old teammates and coaching staff is undoubtedly a plus.
"I'll never forget the chance coach Ham and Pelinka offered me while I was playing for the Lakers. I'm grateful all the time. I'm fortunate to have won this evening.
Beverley noted that his skills fit Chicago more than they did with the Lakers, and the Bulls have improved to a 10-5 record since he joined the team.
He stated: "Yeah, you know, if I'm a spoon, [Bulls coach] Billy [Donovan] is using me as a spoon. The Lakers, you know, I was a spoon and they used me as a fork."
Beverley had stated before playing his former squad that his only goal in meeting them was to  "knock them out of the playoffs."
The point guard acknowledged that his time in Los Angeles was "amazing," even though it didn't look like he had any emotional sentiments for the Lakers.
Beverley remarked of her time while playing for the Lakers:
"We had a lot of fun.
"Obviously, you wished you would have won a little bit more games. But you really can't put a hand on that. But I had a great time, man.
"Obviously, LeBron, he has always been my big bro. He was my vet when I came into the league with the Miami Heat. AD [Anthony Davis], he is from Chicago and it's always love.
"So, we built a real bond and I'm just happy those guys got it rolling and I'm happy for their success." the speaker said.