Republican senators say Trump's legal issues will reflect poorly on the party in 2024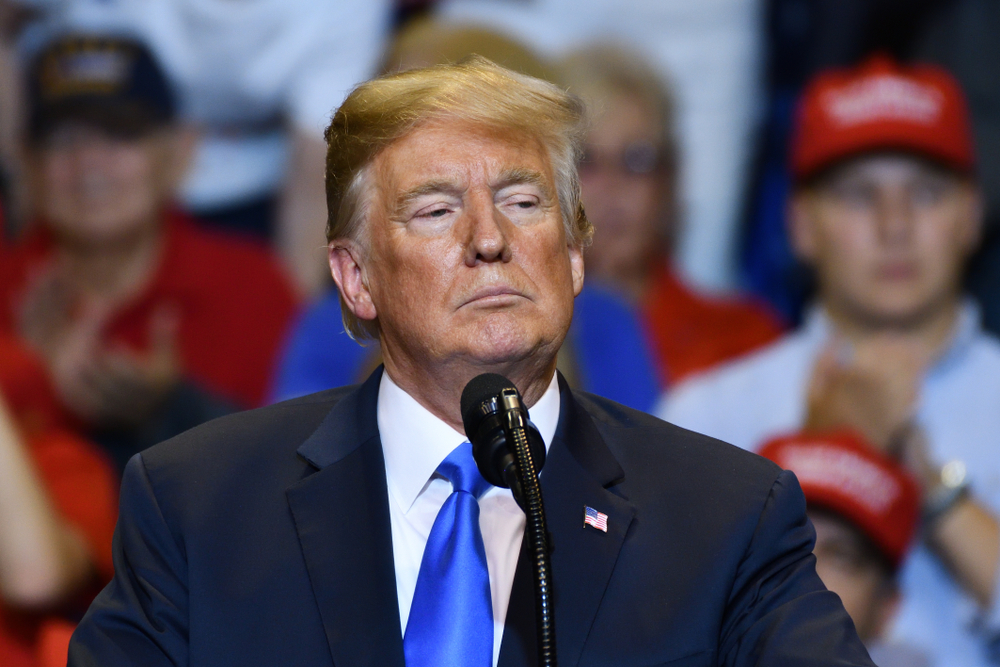 Evan El-Amin / Shutterstock.com
Republican senators are expressing concern that if former President Trump ends up becoming the party's nominee, it will reflect poorly on the GOP, particularly in a year when they are keen to win the Senate.
While Republican senators have charged Manhattan District Attorney Alvin Bragg (D) of pursuing a politically motivated prosecution of Trump, they agree that if the charges are still pending against him in the summer and fall of 2019, it will harm their prospects of winning the 2024 election.
Trump's next scheduled in-person court appearance is in December, thus the duration of the case may last well until 2024. In addition, the district attorney for Fulton County, Georgia, and the Justice Department may bring additional charges against him.
Sen. Mitt Romney (R-Utah), who was the GOP's nominee for president in 2012, said, "I think it's a problem for a party to be considered legitimate by people who care about America to have someone who's been indicted, who's had to plead the Fifth multiple times, who's been surrounded by individuals who've gone to jail, one after the other, or been convicted of felonies."
But according to Romney, none of that will prevent Trump from winning the 2020 presidential primary.
"I don't think that has any particular impact on the primary process or the likelihood that Donald Trump will be our nominee," he said. "I don't think the primary voters look at electability; I think they look for the person they think will pursue what they believe in."
According to figures cited by Reuters, it took an average of more than 900 days for criminal cases in Manhattan last year to go from indictment to trial verdict.
Trump is likely to remain under indictment and have a legal shadow over his head for the upcoming election unless he can persuade a court to throw out Bragg's case.
The Justice Department's special prosecutor Jack Smith, who is looking into Trump's involvement in the events leading up to the attack on the U.S. Capitol on January 6, 2021, as well as his possession of sensitive information at Mar-a-Lago, and the Fulton County District Attorney Fani Willis, who is looking into claims that Trump meddled in Georgia's 2020 election, could also indict him.
Senate Republican Whip John Thune (R-S.D.) indicated that Trump's mounting legal issues would hurt his chances of winning the election.
"Some of these things will drag out for some period of time, so I'm guessing a lot of it will be unresolved" by next year's presidential election, he said.
"But I don't think it's going to deter him from running," he added. "It's probably not going to deter people from endorsing him."
Sens. Tommy Tuberville of Alabama, J.D. Vance of Ohio, Eric Schmitt of Missouri, Lindsey Graham of South Carolina, Cindy Hyde-Smith of Mississippi, Markwayne Mullin of Oklahoma, Ted Budd of North Carolina, Marsha Blackburn of Tennessee, and Bill Hagerty of Tennessee are the nine Senate Republicans who have so far endorsed Trump.
When asked about their support for Trump in spite of his legal issues, fellow Republican senators Thune responded that Trump "will probably be a force in the nominating process so members, I think, are probably looking at their states, their constituencies and the politics around the former president and what makes the best sense for them."
Numerous Republicans, according to Thune, believe that Bragg's prosecution is "very politically motivated," but he also expressed concern that "all this stuff," in this case, the legal disputes, will probably have "a cumulative effect to it."
It "would be better" not to have a nominee for president who is under investigation, said Sen. John Cornyn (R-Texas), a senior adviser to the Senate GOP leadership, in an interview with The Hill.
On Tuesday, he was seen attending a meeting in Washington for Florida Governor Ron DeSantis (R), a potential challenger to Trump.
Cornyn stated that he "went by to pay my respects, shake his hand and wish him well" but has no intention of endorsing anyone until the primary election of the following year. Senator Mike Lee (R) of Utah was present as well.
Many Senate Republicans believe that Trump's repeated but unproven allegations that the 2020 election was rigged—claims that the candidates he backed in the 2022 midterm elections embraced—harmed their chances of regaining the majority in the Senate.
And they fear Trump's ongoing legal dramas could hurt their chances in 2024, as well.
"I think there are several individuals who are looking at running for the presidency that could do a good job of uniting our country. I would prefer to look at one of those individuals — I'm looking forward to having one of those other individuals be successful in obtaining the presidency," Sen. Mike Rounds (R-S.D.) said of the Republican candidates who will challenge Trump in the primary.
When asked about the implications for the party of having its presidential contender indicted, Rounds responded, "I can't think of anything positive about having that occur."
If the Republican nominee for president is under indictment, it's an issue in the general election, according to a Republican senator who spoke on the subject on the condition of anonymity.
It's not good looking, the lawmaker continued.