Strong earthquake in Morocco claims more than 800 lives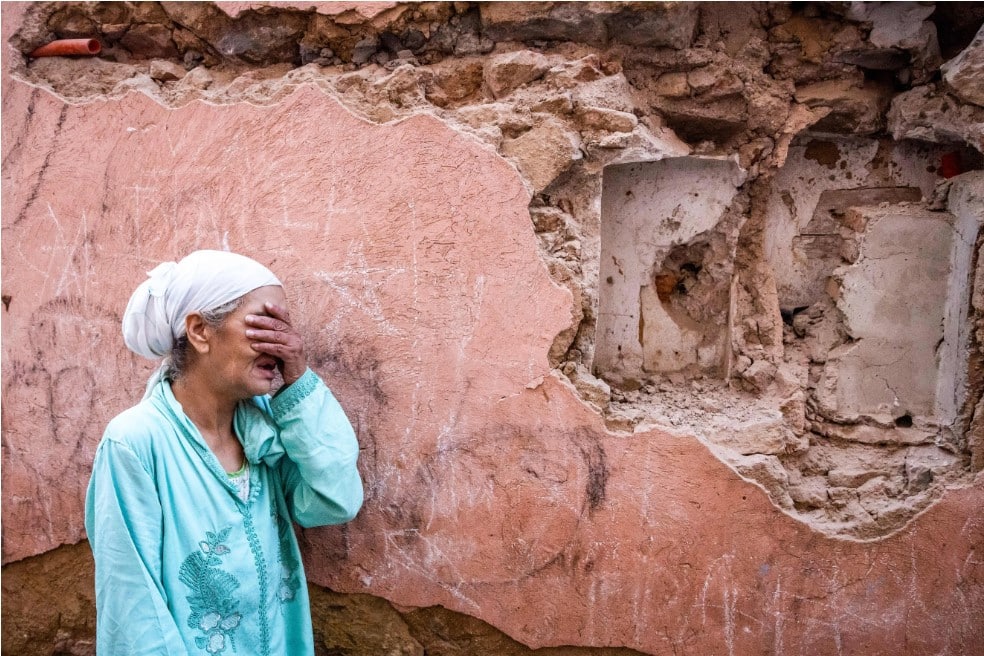 Photo: Fadel Senna/AFP via Getty Images
At least 820 people were killed in a powerful earthquake that struck Morocco late on Friday, according to official media and the country's Interior Ministry.
The broad strokes: Authorities issued a warning that as rescuers searched through the debris on Saturday, the death toll was certain to increase. The country's High Atlas mountains were hit by the earthquake, which also wounded over 670 other people.
Local media reported that homes and structures, including those in the ancient city of Marrakech, a UNESCO World Heritage site, fell or were damaged.
According to the U.S. Geological Survey, the earthquake, which had a preliminary magnitude of 6.8, occurred roughly 44 miles southwest of Marrakech at 11:11 p.m. local time.
19 minutes after the original earthquake, a magnitude 4.9 aftershock struck the area, according to USGS.
They are expressing the following: "I still can't sleep at the house due to the shock and the fact that the ancient town is made up of old residences. According to Jaouhari Mohamed, a native of Marrakech's old city, if one falls, it will induce others to fall as well.
As Morocco continues to analyze the damage, other nations and the UN offered their aid, including rescue and recovery efforts.
According to President Biden, he was "deeply saddened by the loss of life and devastation caused by the earthquake in Morocco."
Officials from Morocco are in touch with my government. We are moving quickly to assure the safety of American nationals in Morocco, and we stand ready to offer the Moroccan people any help that may be required, the official continued.
The G20 Summit is being held this weekend, and Indian Prime Minister Narendra Modi said his nation is prepared to offer "all possible assistance to Morocco in this difficult time."
On social media, French President Emmanuel Macron wrote: "After the horrible earthquake in Morocco, we are all devastated. France is prepared to assist with first aid interventions.
The presidents of Turkey and Spain both made remarks that were similar.
Present situation: According to USGS, strong earthquakes like the one that occurred on Friday "are uncommon" in the area, "but not unexpected."
The magnitude 5.8 earthquake that hit near the city of Agadir in 1960 and killed nearly 12,000 people was the worst in recent Moroccan history.