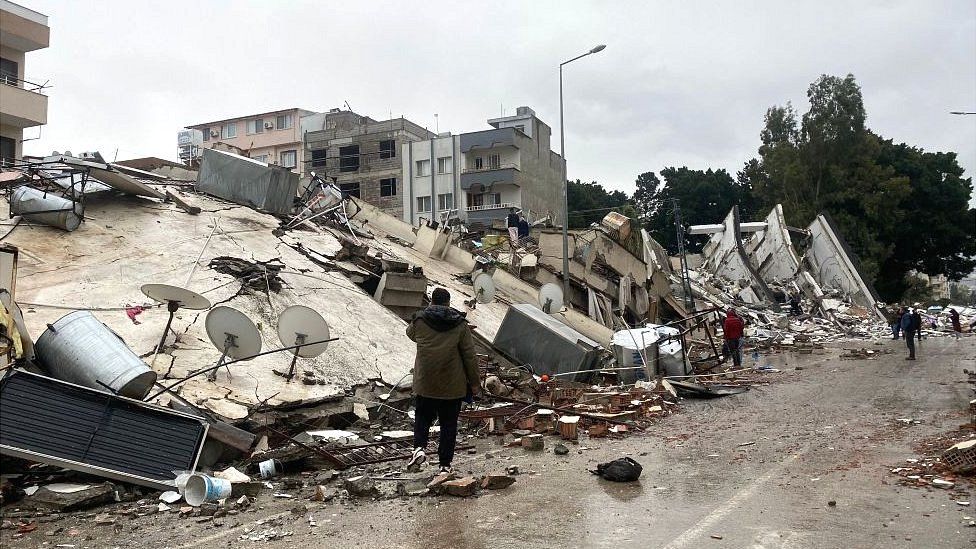 https://www.bbc.com/news/world-europe-64560339
Amina Demir is no stranger to helping people displaced because of natural or political disasters.
As the chief operating officer of the Zakat Foundation of America, a Chicago-based nonprofit group that provides aid around the globe, Demir, who is Turkish Kurdish American, has more than 10 years of experience helping refugees, including those in Syria, Afghanistan and Sudan.
But when she found out about the 7.8-magnitude earthquake in southeastern Turkey, which stranded her own family, her work took on new meaning.
"I hate to say it, but you read about stuff like this and it seems far away," Demir said Tuesday. "There are always these pictures and cities mentioned in the news, but this time, they're my cities and my people."
Demir's family lives in Şanlıurfa, a province with a sizable Kurdish population about 160 miles east of Kahramanmaraş, the epicenter of Monday's two earthquakes.
"I didn't understand the weight of it until we got a call from my aunt after the second earthquake," Demir said. "She called my dad crying, saying 'the buildings threw me out of my bed.'"
Demir's aunt lives in Birecik, a town about 80 miles from the epicenter. Now her aunt and cousins are sleeping in their car.
While most of Demir's relatives are accounted for, she said a cousin's sister-in-law is trapped in rubble.
Another cousin rented a truck to help with recovery efforts, and her father immediately booked a ticket to Turkey, where he is helping family, Demir said.
Southeastern Turkey is also known as Turkish Kurdistan, and Kurds living in the region are very familiar with hardship, Demir said.
Kurds, an ethnic group native to western Asia, have historically been denied political and cultural rights in the Middle East. In the 1980s, Kurdish villages in southeastern Turkey were subjected to security raids by the Turkish government that killed many, according to Human Rights Watch.
Many members of Demir's family, including her father, Halil, left Turkey to escape the persecution.
"They're very strong people. They had to be," Demir said of her family. "But there's only so much one can take before they break."
The earthquakes have killed more than 7,000 people, and the toll is expected to climb.
Demir said the work in Turkey and Syria is just beginning.
"There's a lot that's going to be required on an international scale," she said. "It's disheartening, but I feel blessed and powerful to be in a position to help in this situation."
Source: www.nbcnews.com