Toronto to scrape pass Chicago in Skyscraper Rankings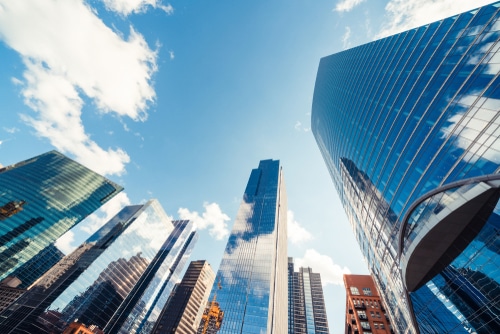 According to the Council on Tall Buildings and Urban Habitat (CTBUH), Toronto, Ontario will push back Chicago for second place in North America in the number of skyscrapers. According to the council, 67 buildings are at least 492 ft. tall in Toronto.
There are 31 buildings under construction while 59 are in proposal. All these buildings will contribute to helping Toronto leapfrog Chicago for the number of Skyscrapers. According to CTBUH, Chicago has 126 tall skyscrapers, 19 under construction and 59 proposed.
New York City holds the record for the tallest buildings are there are 284 buildings over 492-feet already completed. Toronto has some catching up to do if they want to beat New York City.
Bloomberg.com reported that consulting firm Rider Levitt Bucknall Ltd. says that Toronto has the most tower crances among the 13 major cities they surveyed. The following are the tallest Toronto towers, either proposed or under construction.
CC3 (Commerce Court) 350 m.
Mirvish-Gehry – West Tower 329 m.
The Hub (Oxford Properties) 312 m.
One Yonge Street Tower 1 307 m.
The One (under construction) 306 m
55 Lake Shore East Tower B 304 m.
55 Lake Shore East Tower C 304 m.
Union Park 1 303 m.
Mirvish+Gehry – East Tower 302 m.
YSL residences (under construction) 299 m.