Trump suggests to shoot migrants, coming from Mexico border, in legs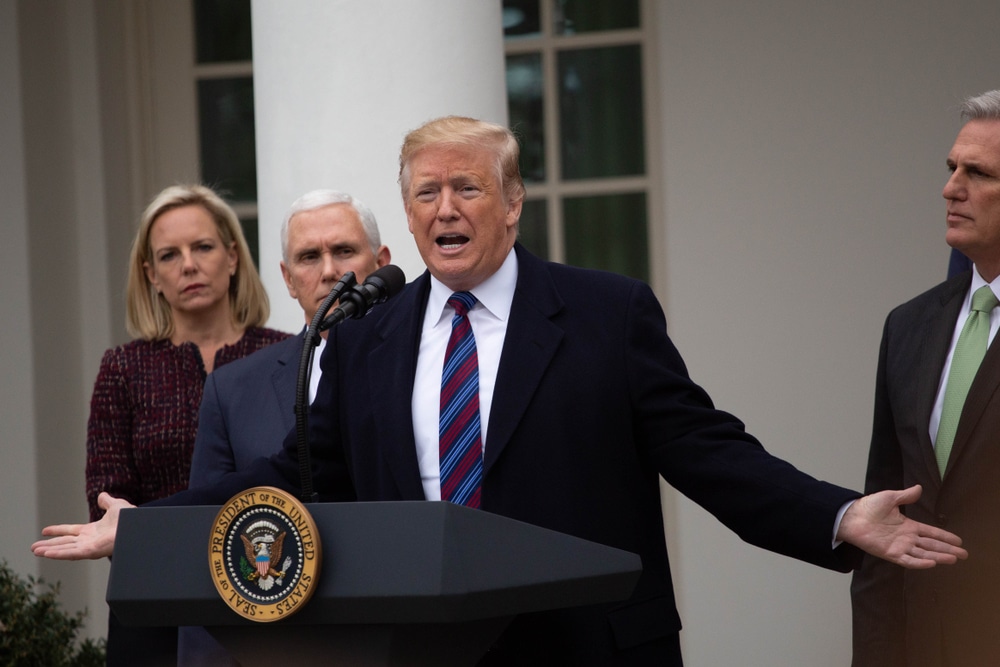 Michael Candelori / Shutterstock.com
Donald Trump discussed the matter of slowing down the migrants coming through Mexico border. He said to shoot the migrants in the legs. The New York Times reported that Trump discussed to shoot the migrants in the legs after he ordered the closure of the entire US-Mexico border. Trump also ordered to fortify the border wall with spikes and electrify it.
The upcoming book, Border Wars: Inside Trump's Assault on Immigration is excerpted with these facts. Michael D Shear and Julie Hirschfeld Davis, the reporters to the Times, revealed it in their report. The report was based on the interviews of the White House officials and the administration. The attitude of Trump towards migrants is aligned with the report. Trump suggested last year that the soldiers should shoot migrants who threw rocks on them. However, he backed away from this suggestion very soon.
Several reports suggested that Trump fired the advisors and aides who went opposite to his ideas. The tense relationship between Trump and Kirstjen Nielsen, the homeland security secretary, was recounted in the story. Nielsen was fired at the request of Stephen Miller, the White House aide. Miller is also known as the architect of Trump's agenda. He reportedly told Trump that some of his officials were giving him wrong advice related to the law hurdles.
The construction of the border wall has begun. The construction is funded by the additional $3.6 billion in military funds. Some immigrant advocates asked the judges in a federal court hearing to block an immigration policy. That immigration policy forces asylum seekers to wait for their court hearings in Mexico.
Human Rights First, an immigrant advocacy group, said that hundreds of the asylum seekers who returned to Mexico faced rapes, kidnapping, and other violent crimes. The new Trump Policy is dangerous and life-threatening for the asylum seekers returned to Mexico, the advocates added. The Supreme Court ordered the Trump Administration to deny asylum to anyone who passes through another country to the US.