US yet again records highest single-day Coronavirus infections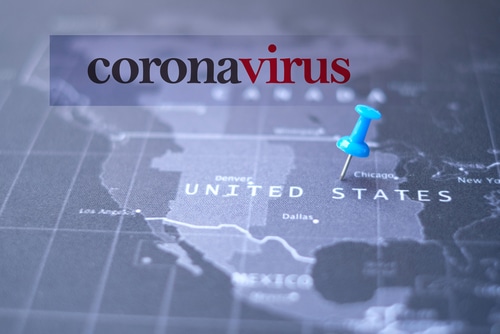 Coronavirus is surging within the United States as for the first time since the virus emerged in the country, the nation has topped 50,000 new infections for a single day. The record-setting figures were set on Wednesday. According to The Atlantic magazine operated The Covid Tracking Project, California led the record setting tally with 9,740 new cases.
The Southwestern states dominated the new figures. Texas second with 8,076 cases, Florida third with 6,563 cases and Arizona behind with 4,877 cases. Other states with record new one-day coronavirus infections Wednesday were Alaska, Georgia, Louisiana, North Carolina, and Tennessee. With the record number of new infections, a new high for current hospitalizations in eight states was accompanied.
On Wednesday, Texas reported 6,904 patients. A crisis is created in one of the nation's largest states, with some hospitals reaching near-capacity. California's Gov. Gavin Newsom in view of record-shattering cases has imposed restrictions yet again. The governor has ordered shut down bars and theaters and halt indoor dining in 19 counties re-imposing the sweeping restrictions imposed statewide at the start of the outbreak.
New York City Mayor Bill de Blasio has put plans of reopening indoor dining rooms on hold because of a possibility of infected people from elsewhere clustering the city. Pennsylvania Governor Tom Wolf issued a statewide order Wednesday mandating that everyone wear face masks.
Head of the National Institute of Allergy and Infectious Diseases Dr. Fauci warned a day before Wednesday's record day, the U.S. Senate committee that the current rate of new infections could more than double to 100,000 a day if the current wave is not dealt with. The World Health Organization said 60 percent of the world's 10 million coronavirus cases since December came in June.