Washington Nationals sweep Chicago Cubs with 7-5 win in extras in the finale in Wrigley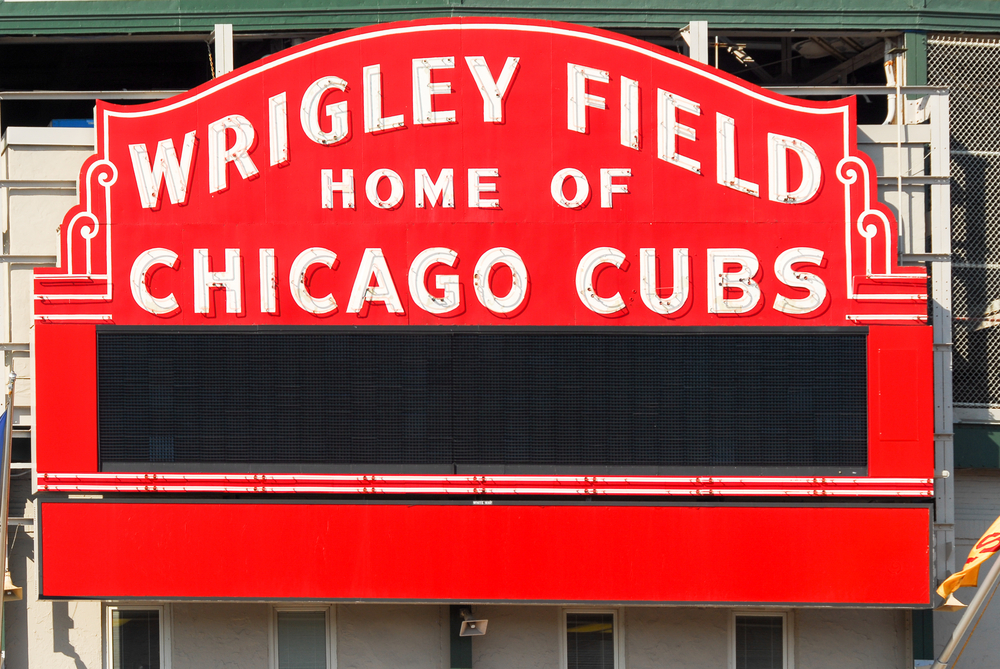 Felix Lipov / Shutterstock.com
Tied at 2-2 in the seventh, the Washington Nationals loaded the bases with two down and got back-to-back hits by Juan Soto, who drove in one with an infield single, and Asdrúbal Cabrera, whose two-run hit to right made it 5-2 in the visitor's favor in Wrigley Field.
Hunter Strickland gave up a solo homer by Victor Caratini in the seventh, however, and then Fernando Rodney gave up a two-run home run by Kyle Schwarber in the eighth, as the Cubs tied things up at 5-5.
It went to extras, and the Nationals scored two in the top of the eleventh, on a wild pitch with Howie Kendrick on third and an RBI single by Anthony Rendon, 7-5.
That's how it ended, and the Nationals earned their first sweep in Wrigley Field since 2005, yes, 2005.
Strasburg in Wrigley: After three outings this month in which he posted an 8.31 ERA, seven walks, 17 Ks, and a .274/.338/.575 line against in 17 1⁄3 IP, Stephen Strasburg bounced back with seven scoreless against the Pirates earlier this week in PNC Park, walking one, with six strikeouts from the 26 batters he faced.
This afternoon in Wrigley Field, the 31-year-old righty was taking on the Cubs for the second time this season, after giving up four hits and two runs, one earned, in eight innings on the mound in D.C. in what ended up a 5-2 win back in May.
Davey Martinez talked after the start about what's working for Strasburg when he's on like he was against Chicago.
"When he's on, you can tell that he uses both fastballs, two-seamer, four-seamer, and today it was curveball, changeups, he used all his pitches, but he gets ahead of hitters and when he does that and gets ahead, he's tough."
Strasburg had everything working again in the series finale in Wrigley Field, striking out six of the first 13 batters he faced, and giving up two hits through four scoreless on 59 pitches with the Nationals up 1-0 on an Anthony Rendon home run in the fourth.
Two outs into the bottom of the fifth inning, however, he left a 2-2 changeup up in the zone inside to Cubs' second baseman Addison Russell, who hit a solo home run to left field, and into the basket up above the ivy-covered brick wall to tie things up at 1-1.
Juan Soto doubled and scored in the top of the sixth, 2-1, but the Cubs put runners on first and third with no one out in the bottom of the inning, with a HBP on Jason Heyward and a single to center by Nick Castellanos. Kris Bryant stepped up next, and hit a 2-2 change out to left field for a game-tying single, 2-2, but Strasburg got the three outs after that to strand two and keep things tied after six.
Stephen Strasburg's Line: 6.0, 5 H, 2 R, 2 ER, 1 BB, 10 Ks, 1 HR, 113 P, 74 S, 4/1 GO/FO.
Hamels vs the Nationals: Cole Hamels threw 101 pitches in five innings on the mound when he faced the Nationals in the nation's capital back in May, giving up seven hits, three walks, and two runs in what ended up a 14-6 win for the Cubs.
Going into his second outing of the season against Washington, Chicago's left-hander was (1-1) in four August starts, with an 8.44 ERA, six BBs, 15 strikeouts, and a .361/.405/.611 line against in 16 innings.
Hamels tossed three scoreless to start, on 47 pitches, holding the Nationals to one hit, but an 0-2 fastball to Anthony Rendon in the fourth ended up bouncing on Waveland Ave, out behind the seats, 421 feet to left field in Wrigley Park for his 29th blast of the season and a 1-0 lead over the Cubs.
The Cubs' southpaw kept it there through five, and took the mound in the top of the sixth at 86 pitches in a 1-1 game after Addison Russell homered to tie it up in the bottom of the fifth.
Hamels stranded two after giving up back-to-back singles in the fifth, but a leadoff double by Juan Soto and single by Asdrúbal Cabrera in the first two at bats of the sixth ended the lefty's outing after 97 pitches…
Cole Hamels' Line: 5.0 IP, 7 H, 2 R, 2 ER, 1 BB, 3 Ks, 97 P, 65 S, 6/3 GO/FO.
Turn-On: Trea Turner singled twice and walked twice in Saturday's win over the Cubs, and in doing so, extended his career-high on-base streak to 31-straight games, over which the 26-year-old Nationals' shortstop was 45 for 132 (.341/.407/.538) with six doubles, one triple, six home runs, and 15 walks in 150 plate appearances.
Turner was 0 for 2 the first two times up against Cole Hamels, but he singled to right field the third time up, extending his one-base streak to 32-straight games.
Rendon is Streaking: Anthony Rendon started the series finale with an 11-game hit streak, over which he was 18 for 48 (.375 AVG) with five doubles, three home runs, 12 RBIs, and a total of eight runs scored. He extended it to 12-straight with a two-out hit in the first, then hit his fourth home run in the last 12 in the fourth inning, in his second trip to the plate against Cubs' lefty Cole Hamels, connecting on a 0-2 fastball and sending it out of Wrigley Field via left field.
BULLPEN ACTION: David Phelps took over for Cole Hamels with runners on the corners after a double by Juan Soto and a single by Asdrúbal Cabrera started the sixth, and he dialed up a 6-4-3 DP, but Soto scored from third on the play to make it a 2-1 game in the Nationals' favor.
Rowan Wick came on in a 2-2 game in the seventh, after the Cubs rallied to knot things up, and gave up a one-out walk to Adam Eaton, a two-out single by Victor Robles, and a base-loading walk to Anthony Rendon, so Joe Maddon went to lefty Kyle Ryan against Juan Soto and the Nats' left fielder sent a one-hop liner to short and beat the throw by Javier Báez to the first base bag for an RBI single that made it a 3-2 game.
Asdrúbal Cabrera followed with a two-run single to right, 5-2 Nationals.
Brandon Kintlzer came on to get out No. 3, but the Nationals took a three-run lead into the bottom of the inning.
Hunter Strickland got two outs before giving up a towering shot to right by Victor Caratini, 5-3. Strickland held it there, however.
Kintzler retired the Nationals in order in the top of the eighth.
Fernando Rodney retired the first two batters he faced in the Cubs' half of the eighth, and gave up a two-out walk to Javier Báez, and a game-tying, two-run home run to left by Kyle Schwarber, whose 30th of 2019 made it a 5-5 game.
Craig Kimbrel walked Trea Turner to start the ninth, and gave up a single to center field by Anthony Rendon that put two on in front of Juan Soto, who lined sharply to center for out No. 2. Asdrúbal Cabrera worked the count full, but K'd looking at a curve to end the top of the ninth. Still 5-5.
Wander Suero gave up a two-out walk to Victor Caratini in the Cubs' half of the ninth, but stranded him at first when Jason Heyward grounded out to second to send it to extras…
Steve Cishek retired the Nationals in order in the top of the 10th.
Daniel Hudson came on in the bottom of the inning and retired the Cubs in order.
Tyler Chatwood gave up a leadoff single by Howie Kendrick in the top of the eleventh, and a double to right by Trea Turner that sent Kendrick to third. One out later, a wild pitch allowed Kendrick to score, 6-5. Anthony Rendon singled to left center (4 for 5, 2 R, 2 RBIs), to bring in Turner and make it 7-5.
Hudson came back out with the Nationals up by two and retired the Cubs in order to end it.
Ballgame.
Final Score: 7-5 Nationals
Nationals now 73-57
SBNATION Federal Baseball