5 ways to create a cozy backyard getaway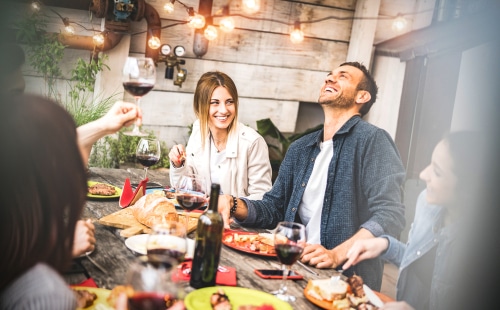 Having a garden or a backyard is a wonderful opportunity to extend your home feeling outside the walls. Whatever the size, it can be a perfect place for relaxing at the end of the day, having a nice cozy barbecue with your friends or it can even turn into the most favorite place for family dinner. Not everyone has the desire or opportunity to design the backyard with a specialist that can take the maximum of the place. Yet, we bring you some tips that will help you transform the environment (if needed) and make your backyard a real getaway.
Plant vine type plants along the walls.
Plain wooden or brick wall works fine, yet covered with ivy, Clematis, Campsis, Jasmin, or any other vines can turn the space into something more private. There is a great choice of plants of that kind in every garden store, from elegant roses to evergreen Euonymus Wintercreeper. If you don't have green fingers, simply choose any kind of ivy, whatever you like more.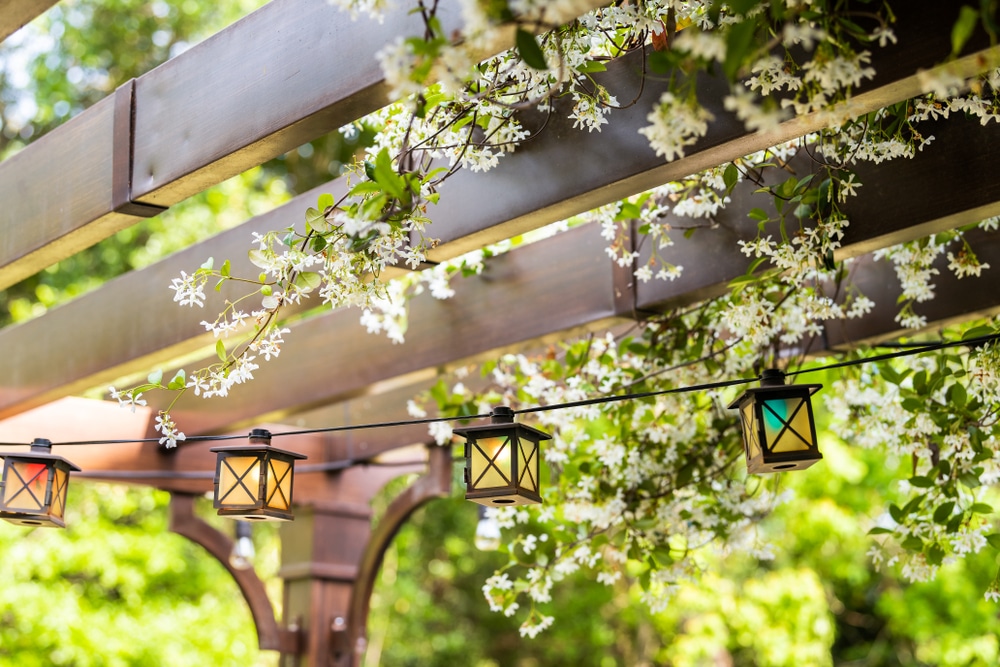 Furnish your outdoor room
It can be a sitting area for two, a fireplace, a sophisticated dining room with pergola and twelve chairs, or an outdoor kitchen with a basic grill. A plastic table and cheap plastic chairs may also serve you well, but on the other side, they will not please your eyes and barely add any coziness to the area. The furniture doesn't necessarily need to be expensive; it can even be made of old painted pallets with colored cushions and tablecloth on.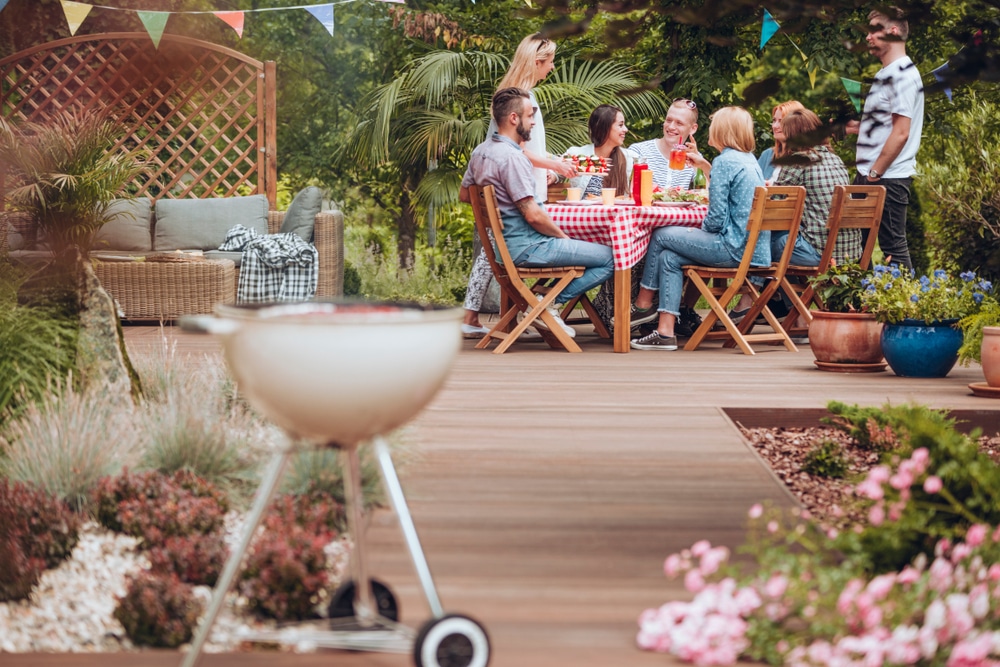 Add a string of lights
It is a very simple tip, but it can change the atmosphere dramatically. Put some candles on the table, hang string lights, and you will be surprised how cozier it gets. It doesn't matter whether the light bulbs are big or small, you can even make DIY lanterns and make all of them of a different size. But in any case, we would recommend you choose warm yellow light instead of white one, as warm light creates a lot of warmth, making the space outside cozier and relaxing. In the kitchen area, you can place porch lights that illuminate the grill and working table. And don't forget to illuminate steps and walkways for safety.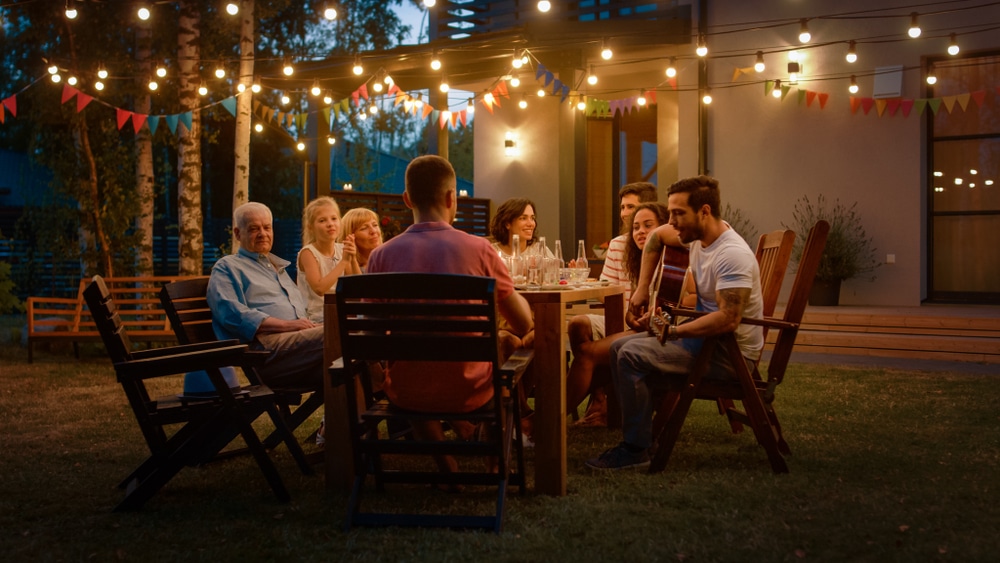 Mix textures
A dozen of patio cushion and pillows, a few plaids or blankets – all these can do wonders to the way you feel in your garden. The more textures you use in the design, the cozier it will get. Wooden benches, ivy walls, pergolas with hanging wisteria flowers, candles here and there, soft knitted blankets and flowery cloth under the shiny white plates. This is what the Danish call 'hygge' – it may not be well-designed, but it definitely feels like home.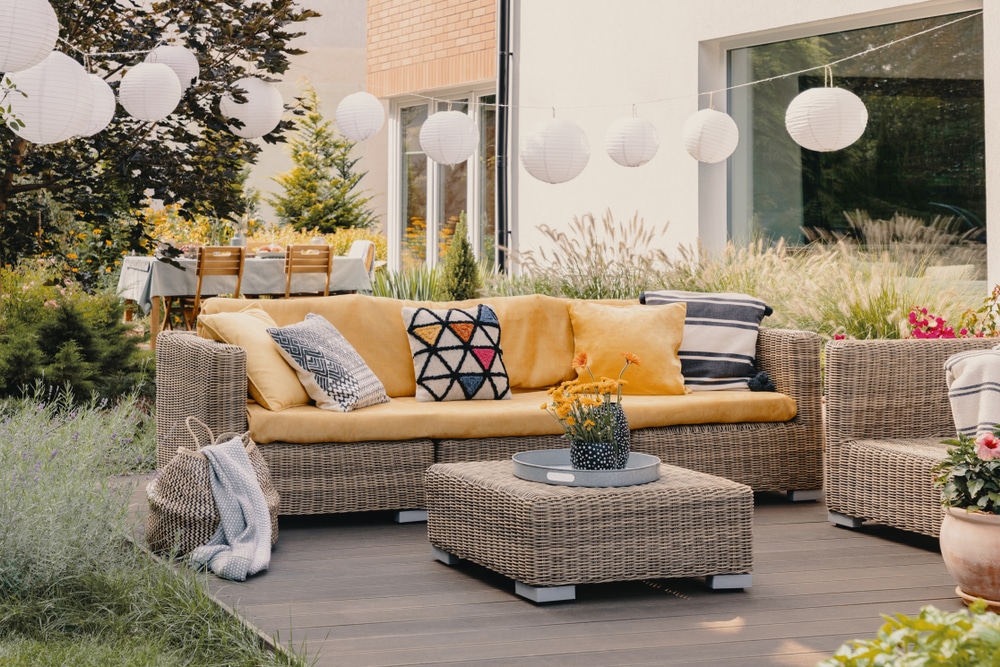 Plant flowers
Those who like gardening, don't need such tip, they have probably planted some flowers the very first year after moving in. But even if you are not experienced, you can find some easy plants that can make a difference to your backyard. First, pay attention on potted flowers – they may not live long, but they will add color to your garden anyway. If you want something more permanent, consider Ornamental Grasses, such as zebra grass, pampas grass, Pink Hair Grass, and so on.