Former Vice President Joe Biden wins Illinois primary on Tuesday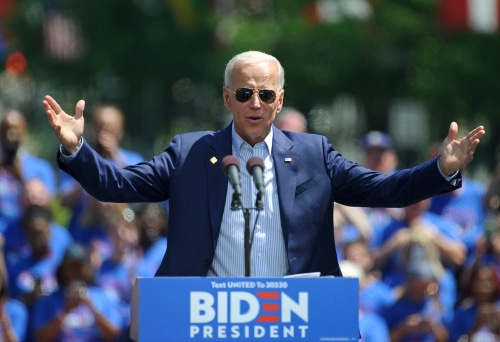 Matt Smith Photographer / Shutterstock.com
Joe Biden, the former Vice President of the United States, has strengthened his hold on the Democratic nomination after winning the Illinois primary on Tuesday. It is more like that he will face Donald Trump, the president of the US, in the upcoming presidential elections. The competition was among Biden and US Senator Bernie Sanders.
Biden got 59 percent of the votes while Sanders got 36 percent. Biden has already won Florida and Arizona primaries. According to the media reports, Biden has crossed the halfway point on its way to the 1991 delegates needed to be nominated as a Democratic candidate for the elections. The Democratic National Convention in Milwaukee will nominate the Democratic candidate.
Biden said, "Our campaign has had a very good night. We moved closer to securing the Democratic Party nomination for president." Biden talked about the similarities between him and Sanders on some important issues including health care, climate change, and income inequality. He admired the approach of Sanders and his supporters in terms of highlighting these key issues.
Biden said, "Coronavirus is a larger concern for everyone." He added that they needed to keep political differences aside and work as a nation to cope with the deadly viral infection. On the other hand, Sanders called it a "national crisis." It is almost clear that Biden will be nominated as the Democratic candidate for the elections.
The Chicago Board of Election Commissioners raised some 11th-hour concerns but the vote went on. JB Pritzker, the governor of Illinois, suggested last week that the election should be conducted entirely via mail. However, he said on Tuesday that he did not have any authority to take such a decision. Elections judges in some precincts in Chicago and suburbs failed to show up as they were spooked by the coronavirus outbreak. It resulted in long lines on other polling stations.