Naperville Park District to Conduct Seasonal Controlled Burns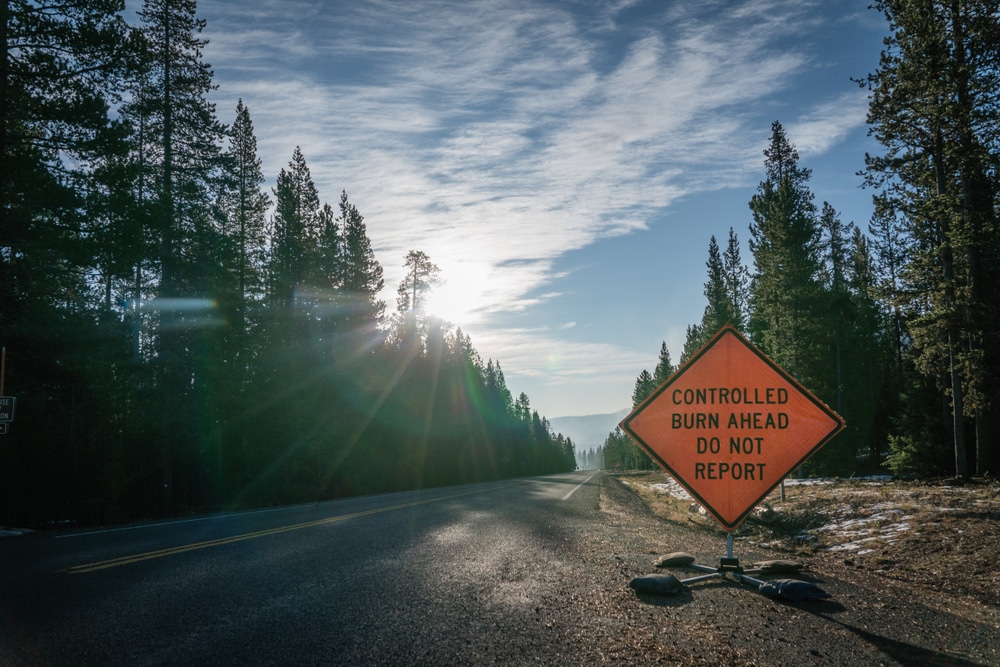 Beginning in March, Naperville Park District crews will be conducting prescribed ground-level burns in various areas throughout the District in an effort to improve the habitat for native plants. In Illinois' early history, prairie fires occurred regularly with lighting strikes, and the deep-rooted native prairie plants evolved to withstand fire. Controlled burns are now an effective tool used by Park District staff to clear the ground of invasive weeds, return nutrients to the soil, and allow the native prairie plants to flourish.
Timing of the burns depends on ground temperature after the snow melts. The ground needs to be sufficiently warm, but the grass must remain dormant for the burn to be successful. Additionally, weather conditions and wind velocity and direction permit only a few sites to be burned each year, during either the spring or fall burn seasons.  Trained crews supervise this process, and the Illinois Environmental Protection Agency and Naperville Fire Department issue an annual permit to the Park District for this activity.
Learn more about seasonal controlled burns at the Naperville Park District.
Weather conditions permitting, staff may conduct controlled burns at some of the following parks, either in the spring or fall of 2021:
Arrowhead Park, 711 Iroquois AvenueAshbury Park, 1740 Conan Doyle Road
Ashbury Commons, 3475 Naperville Road
Ashwood Park, 4603 Chinaberry Lane
Bailey Hobson Woods, 1184 Hobson Mill Drive
Baileywood Park, 1588 Oxford Lane
Brighton Ridge Park, 775 Torrington Road
Brook Crossings, 1015 95th Street
Brook Prairie, 1059 Thackery Lane
Buttonwood Park, 803 Buttonwood Circle
Carol Acres, 787 Fort Hill Drive
Century Farms, 715 Sigmund Road
Clow Creek Greenway, 4616 Haviland Court
Commissioners Park, 3704 111th Street
Country Lakes Park, 1835 N. Aurora Road
Dorothea Weigand Riverfront Park, 2436 S. Washington Street
DuPage River Park, 808 Royce Road
DuPage River Sports Complex, 2807 S. Washington Street
DuPage River Trail, 75th Street and Washington Street
Fireman's Memorial Park, 1072 W. Jefferson Avenue
Fort Hill Activity Center grounds, 20 Fort Hill Drive
Frontier Sports Complex, 3415 Book Road
Heritage Woods, 1067 W. Fifth Ave.
Hobson Grove, 1152 Blue Larkspur Lane
Hobson West Ponds, 915 S. West Street
Hunters Woods, 2007 Lakeview Court
Kingsley Prairie, 160 Ring Road
King's Park, 308 White Oak Drive
Knoch Knolls Commons, 323 Knoch Knolls Road
Knoch Knolls Park, 336 Knoch Knolls Road
Lincoln Greenway, 1052 Edgewater Drive
May Watts Park, 804 S. Whispering Hills Drive
Meadow Glens, 1303 Muirhead Avenue
Naperbrook Golf Course, 22204 W. 111th Street
Nike Sports Complex, 1520 N. Mill Street
Oakridge Parkway, 478 E. 87th Street
Old Farm Greenway, 75 W. 97th Street
Old Farm Park, 195 Ring Road
Olesen Estates, 1415 Dunrobin Road
Pioneer Park, 1212 S. Washington Street
Rivercrest Estates Park, 11 S087 Sheri Street
River Run Preserve, 4343 Plainfield/Naperville Road
Riverwoods Park, 2283 Riverwoods Drive
Rock Ridge Park, 1316 Green Trails Drive
Seager Park, 1163 Plank Road
Sindt Woods, Riverwalk Park, Jackson Avenue and Cody Court
Springbrook Golf Course, 2220 W. 83rd Street
Springbrook Parkway, 2359 Nottingham Lane/735 DeLasalle Court
Springhill Greenway, 703 Springhill Circle
Springhill Park, 780 Springhill Circle
Stanford Meadows, 1991 Stanford Drive
Summerfield Lake Park, 2003 Skylane Drive
Tallgrass Lakes, 3320 Rollingridge Road
Timber Creek Park, 3323 Timber Creek Lane
University Heights Park, 1315 River Oak Drive
Veterans Park, 303 E. Gartner Road
Walnut Ridge Woods, 1092 Augustana Court
Walnut Ridge Park, 2304 Keim Drive
Westglen Commons, 467 Westglen Drive
Wildflower Park, 2122 Aurora Avenue
Willowgate Square, 408 Travelaire Avenue
Wil-O-Way Commons, 1701 W. Jefferson Avenue
Winding Creek Park, 144 W. Bailey Road