Aquatic Programs Begin Soon at Centennial Beach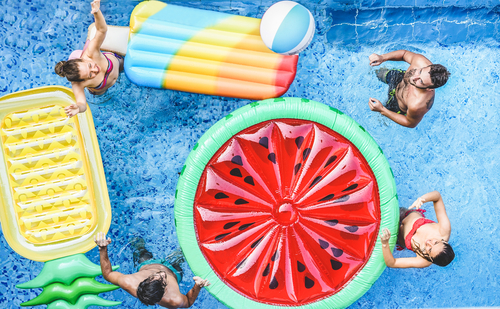 Centennial Beach has aquatic programs for all ages beginning in early to mid-June. Swim lessons, springboard diving training, Beach yoga, aquatic fitness and more favorite programs are returning to the Beach this summer. Visit www.centennialbeach.org  and click on the Aquatic Programs tab to see the menu of programs offered this season.
Swim lessons begin June 14, from Beach Babies, an infant-parent program, to lessons for adults. Youth swim lessons for ages 6-14 place swimmers in levels by skill and are designed to improve each child's swimming skills at his or her own pace. Swim lessons for preschool children emphasize water safety and also place children in skill levels.
Youth swimmers interested in expanding their swimming skills can register for Deep Water Test Prep or Swim Conditioning.
Beach Yoga provides a relaxing and energizing yoga practice on Sunday mornings from 8:00-9:00 a.m.
Register for these programs and other here.
Adult Float is a favorite program for adults age 18 and older on Saturday and Sunday mornings from 9:00-10:55 a.m. No registration is required, just a season membership or daily entry fee.
Families with individuals who have special needs are invited to enjoy a quiet, relaxing evening after regular operating hours of Centennial Beach. The shallow end and slide will be open Sundays from 6:30-8:00 pm on June 20, 27, July 18 and July 25. No registration is required. Cost if $4/person at the door, or guests may use their membership.