Splash Pads Open at 95th St. Community Plaza and Wolf's Crossing Community Park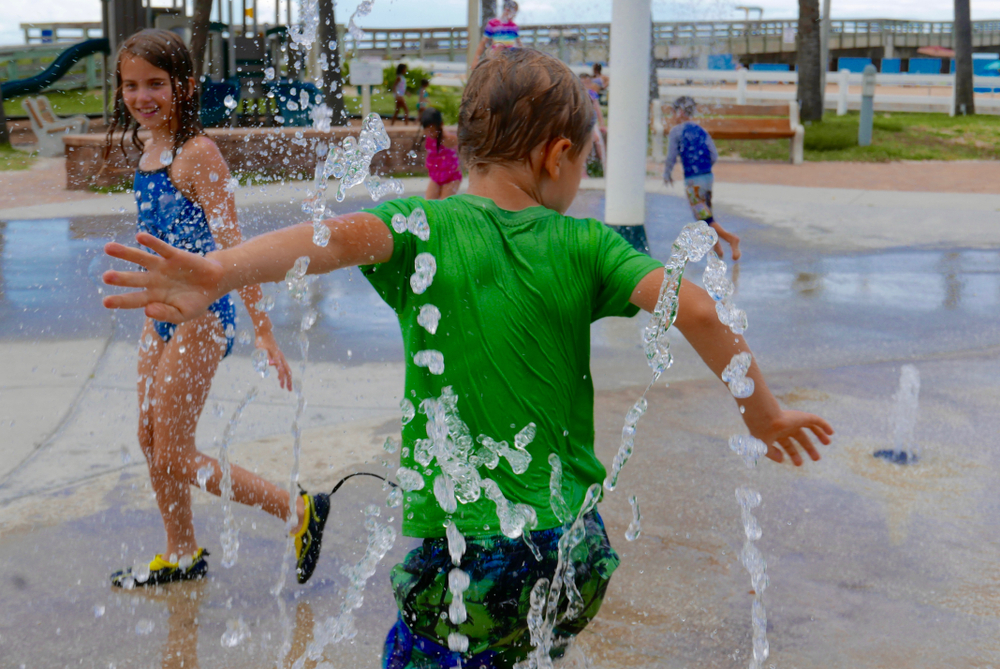 Naperville Park District's two splash pads are now open for the season at the 95th Street Community Plaza and at Wolf's Crossing Community Park. With warm, summer weather predicted for the weekend, families are invited to enjoy these new additions to the parks as a fun way to cool off.
The splash pad at 95th Street Community Plaza opened in July 2020 as part of this new park, which is located on the north side of Frontier Sports Complex at 3109 Cedar Glade Drive, adjacent to the 95th Street Library. The plaza was designed as a community gathering place and features a unique storybook-themed playground, walkways and shaded seating areas, a restroom building with showers, Wagner Family Pavilion and a spacious lawn for play, activities and seating for performances held at the Pavilion.
The splash pad at Wolf's Crossing Community Park opened during the park opening ceremony on May 20 as the District's second splash pad and one of many attractions at this new park, located at 3252 Wolf's Crossing Road, just south of Trumpet Avenue. The park offers plenty of free parking, restrooms with showers, a playground, a challenge course, athletic fields and courts, a nature play area and a 1.4-mile multi-use trail that loops around the perimeter of the park and also connects to regional trails.
Splash pad hours are 9:00 am-8:00 pm daily, weather permitting. Please note that the splash pad is push-button operated and "zoned"; this means that certain features will run and rotate through a cycle, but not all elements will run at the same time. The splash pads are free to use, but have a maximum capacity of 100 and are available only on a first come, first served basis.  To check the current status of the splash pads, visit napervilleparks.org/cancellations and view category "Splash Pads."
Park visitors are asked to review participation guidelines for programs and facilities prior to visiting. The Naperville Park District follows the guidelines issued by the State of Illinois under the Restore Illinois Plan and developed by the Illinois Department of Commerce & Economic Opportunity (DCEO) and the Illinois Department of Public Health (IDPH); those guidelines can be found here: www.napervilleparks.org/coronavirus.
Per Executive Order issued by the Governor on May 17, 2021, individuals who have been fully vaccinated for COVID-19 are no longer required to wear face coverings while visiting Naperville Park District parks, programs or facilities (both indoors and outdoors). Any individual who is over the age of two and not fully vaccinated, should wear face coverings that completely cover their noses and mouths when not engaged in splash pad activities. Exceptions can be made for children younger than 2 years of age or people with medical conditions or disabilities that prevent them from safely wearing a face covering.