President Mitchell Receives ICCTA's Ethical Leadership Award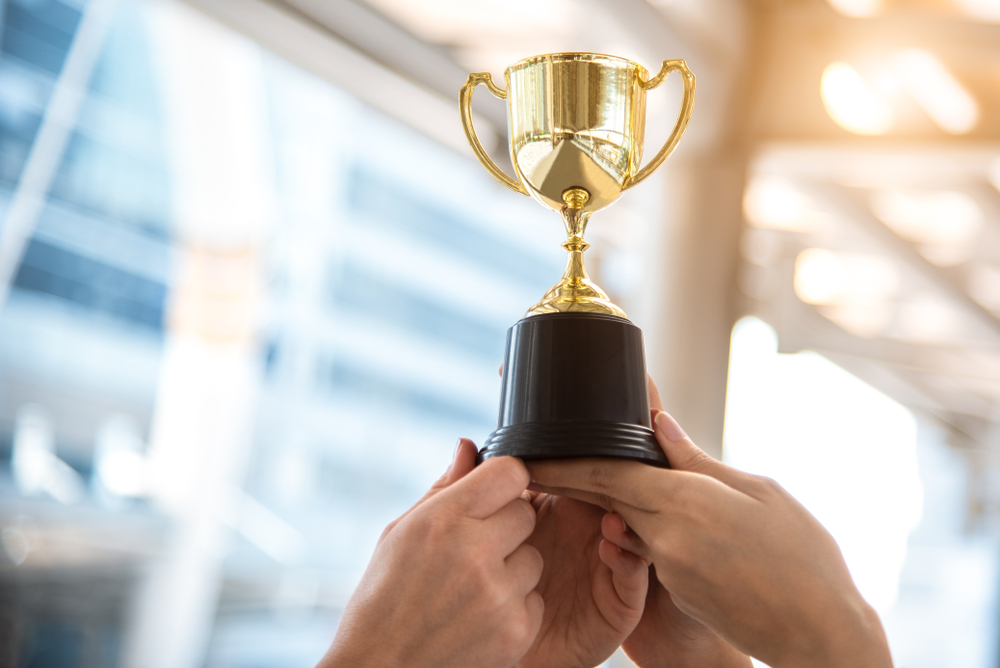 Joliet Junior College President Dr. Judy Mitchell has received the Gary W. Davis Ethical Leadership Award from the Illinois Community College Trustees Association (ICCTA). The honor was presented during the ICCTA's annual convention and awards ceremony June 4-5 in Normal.
The Gary W. Davis Ethical Leadership Award honors individuals who have made an outstanding contribution to the pursuit and support of ethical leadership and decision-making in their fields of work and volunteer service.
"I am honored to join a distinguished group of colleagues across the state in this prestigious recognition," said Mitchell. "When I accepted the role of the president, one of my four pillars was to focus on communications and outreach.  It was critical to rebuild trust, respect and goodwill both internally and externally. I am passionate about the success of our college and the district we serve, and proudly represent JJC's Core Values treating everyone with respect."
Mitchell, who is retiring at the end of December after five years as president and 25 as a JJC employee, believes transparency and communication are key to the college's success.
"I have learned a great deal over the years by listening and learning," she said. "Holding the now annual State of the College address, when I proudly share updates and successes about our collective work and the success of our students. I expanded the President's Ambassador Program to build relationships and cultivate partnerships, meet with our employees, host open forums, and celebrate our students, all of which provide an opportunity for celebrating together."
Mitchell started at JJC as a returning adult student, and in 1996 became administrative assistant in the Computer Information Office Systems Department. She next served in business services and later administrative services before becoming president in 2016.
As vice president of administrative services, Mitchell led a cross-functional team to develop the college's first-ever shared governance model. Still in use today, the model encourages participation in committee work and institutional goals from across the campus, and provides alignment, accountability, and transparency in achieving college goals through shared dialogue and a clear scope of decision-making.
In her first year as president, Mitchell streamlined JJC's diversity efforts by forming the President's Diversity, Equity and Inclusion Council. The group created the 2020-2023 DEI Plan, which in part has emphasized more diverse employee recruitment practices and led to an increase in minority applications. This spring, JJC won the national Advancing Diversity Award from the American Association of Community Colleges, and for the second straight year was named a top diversity employer by online job board DiversityJobs. She also developed a new compliance officer position in 2018 to cultivate a campus culture of accountability.
Mitchell has been recognized for her community contributions, earning the Zonta Club of Joliet's Woman of Distinction Award. She helped launch and chair a governance committee for the Will County Habitat for Humanity, where she and her husband have volunteered, to cultivate fair and equitable policy practices.
Mitchell was among three JJC award winners at the ICCTA convention. Former Board of Trustees Chairman Bob Wunderlich received the Certificate of Merit for his 44 years of service; and graduate Alisha Brennon received the Pacesetter Award, which recognizes the success stories of Illinois' more recent community college students. Brian Jolet, social and behavioral sciences adjunct professor; and Dr. Mary Beth Luna, nursing department chair, were also nominated by the college for outstanding part- and full-time faculty member awards, respectively.
"Joliet Junior College was represented very well this year," Mitchell said. "The annual ceremony recognizes the amazing efforts of community colleges across the state, as we continue advocate for our students, equality, and our mission and purpose to enhance lives."