JJC Alumna Honored for Achievements by ICCTA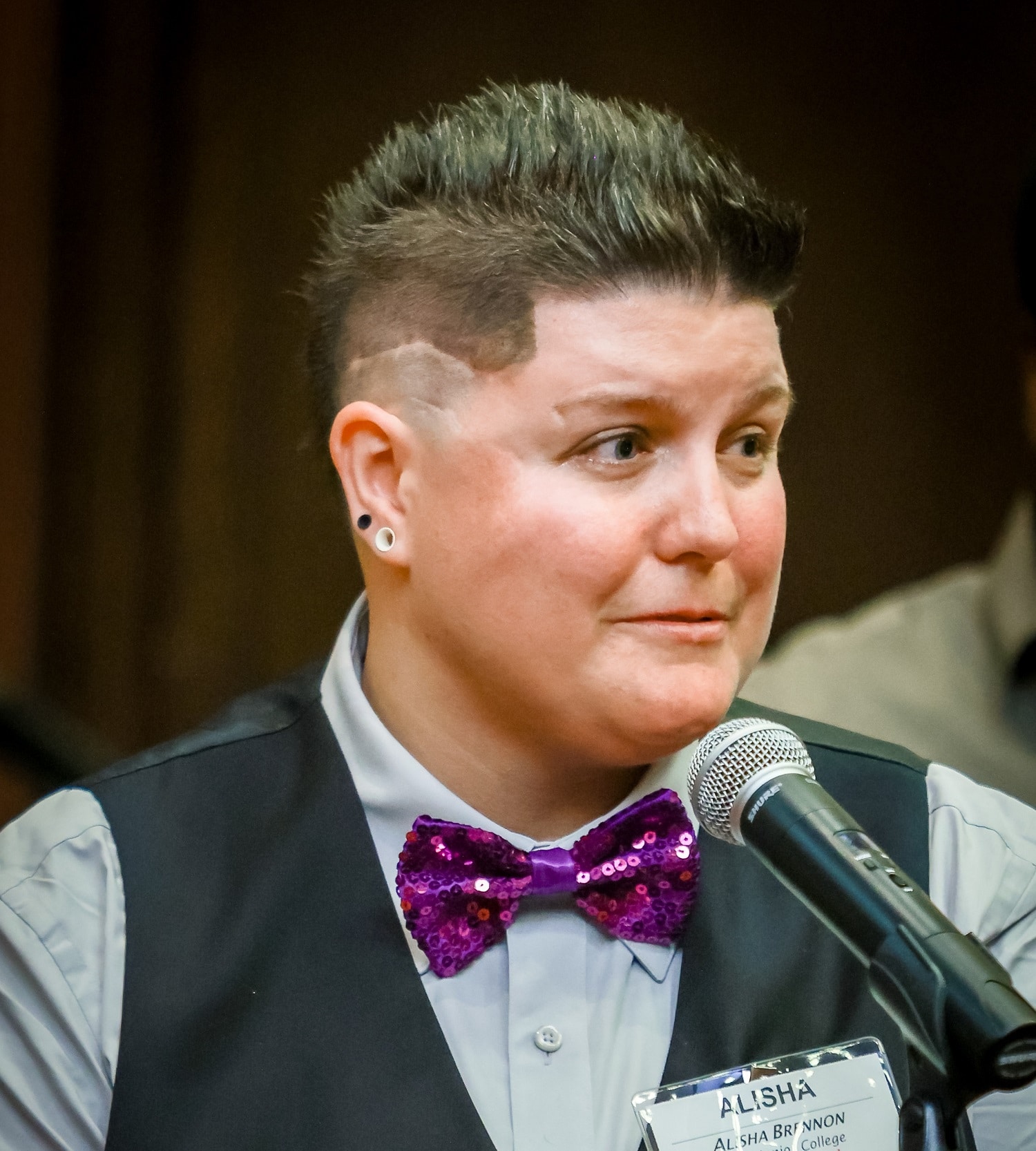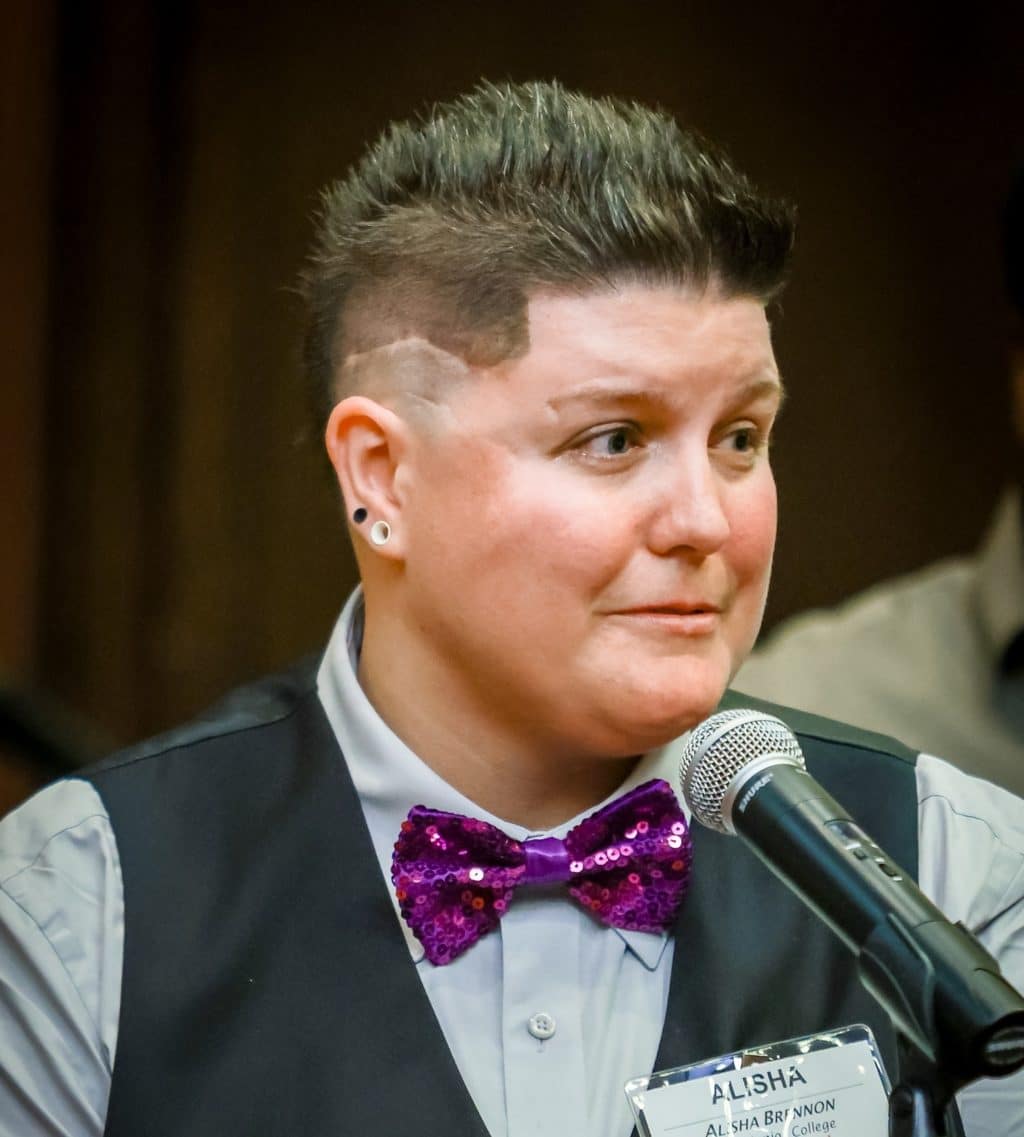 Alisha Brennon, a 2020 graduate of the Joliet Junior College Orthotics and Prosthetics program, has won the Pacesetter Award from the Illinois Community College Trustees Association (ICCTA). She was among a group of JJC representatives honored during the ICCTA's annual convention and awards ceremony June 4-5 in Normal.
The Pacesetter Award recognizes the accomplishments of recent Illinois community college graduates who have overcome obstacles, demonstrated promise in a chosen career, and for their service to the community.
Brennon's life took a drastic turn in 2011, when her partner was killed and Brennon's skull partially crushed after a concert stage collapsed at the Indiana State Fair. Seven people died and close to 60 were injured in the incident. In the years since, Brennon found purpose through her campus involvement and the support she's received along the way, which Brennon credits for instilling drive, determination, and never-let-up attitude back into her life.
Brennon's renewed enthusiasm helped fuel her passion for assisting others both on and off campus. In 2018, she traveled to Bolivia to help clinic patients who could not afford a prosthetic limb. She spent over 100 hours taking impressions of their limbs to develop the right fit. Brennon recalled one case in which a patient's prosthetic was being held together by duct tape. "This wouldn't have happened without some key people at JJC. First and foremost, OPT professors Mike Brncick and Desmond Masterton never showed doubt in my capabilities and pushed me to be the best. They were my saving grace in my recovery, because it wasn't until their classes that I realized I could do great things with the new life I'd been given," said Brennon. "Secondly, Amy Sims, Pam Dilday, and Chris Ulreich from the Office of Student Activities. "They helped me unleash all of the bottled-up positive energy that I had buried for so long and channeled it to do good in the world."
"I had brought some fabric down to see if maybe designs on the prostheses would be something that the patients would enjoy. She chose one of my fabrics and when we finally fit her with her final prosthesis, she looked at me and said that she finally has a pretty leg," Brennon said.
Brennon now works for Shirley Ryan Ability Lab in Chicago, but continues to assist with OPT projects at JJC. This has included recent collaborations with JJC's Veterinary Medical Technology program to support orthotics and prosthetics for animals.
JJC Well Represented at ICCTA Awards
Brennon joined JJC President Dr. Judy Mitchell and former Board of Trustees Chairman Bob Wunderlich in winning awards at the ICCTA awards ceremony. Brian Jolet, social and behavioral sciences adjunct professor; and Dr. Mary Beth Luna, nursing department chair, were also nominated by the college for outstanding part- and full-time faculty member awards, respectively.
Mitchell received the Gary W. Davis Ethical Leadership Award, which honors individuals who have made an outstanding contribution to the pursuit and support of ethical leadership and decision-making in their fields of work and volunteer service.
Wunderlich received the Certificate of Merit for his 44 years of service to the college, which concluded this spring. Wunderlich joined the board in 1977 and is one of only six trustees in the state's history to have served more than 40 years on their local community college board. He was honored at the April 28 board meeting, and celebrated with a video tribute during JJC's Night of Stars ceremony.
Outstanding Full-Time Faculty Member Award nominee Dr. Mary Beth Luna has served the college for over 20 years. Since joining JJC, Luna has obtained her Ph.D. and earned a Master Online Teacher Certificate. In 2013, she was one of nine state educators to receive the Illinois State Board of Education's Nurse Educator Fellowship Award. This spring, she was selected as the faculty commencement speaker.
Outstanding Part-Time Faculty Member Award nominee Brian Jolet has served the college for six years, and worked as an educator for nearly 20. While at JJC, Jolet has updated and revived three critical history courses, and has dedicated time to updating textbooks and establishing new learning objectives. Jolet has also been an active participant and presenter in various professional development seminars.