Protestors gather outside Netanyahu's residence, ask for his resignation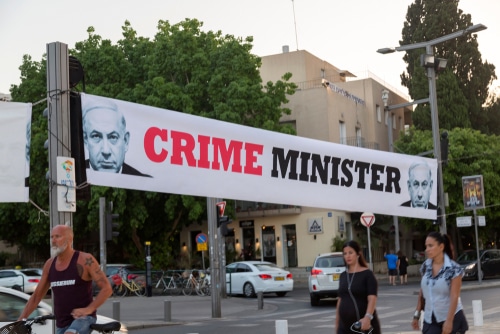 ColorMaker / Shutterstock.com
Thousands of protestors demanded the resignation of Benjamin Netanyahu, the prime minister of Israel. They gathered outside the prime minister's residence from Saturday night to Sunday morning to record their protest. The protests against Netanyahu have entered in the 11th week. The protests are happening at a time when Israel is facing a record number of coronavirus cases.
The protestors are criticizing Netanyahu over his failed policies in response to the coronavirus pandemic. They claimed that the coronavirus pandemic had increased unemployment in the country. The protestors said, "A prime minister who is facing corruption charges should resign from its office immediately."
The protestors had placards and banners in their hands during their protest. They wrote some slogans against the prime minister on the placards including "Revolution" and "Get out of here." A huge number of people had the flags of Israel in their hands. The protestors created a symbol on an adjacent building in the Hebrew language. That symbol signaled towards the prime minister that meant, "It's enough, we have already tolerated you a lot."
The public came on to the roads and bridges to record their protests in Jerusalem and other cities of Israel. The protestors demanded the resignation from Netanyahu. The second wave of COVID-19 broke in Israel due to the wrong steps taken by the government related to bringing the economy back on track. However, the Israeli government got rid of the first wave of the coronavirus successfully.
The government of Israel is thinking about implementing the lockdown again due to the rising number of COVID-19 cases reported on a daily basis. More than 1000 people have lost their lives due to the coronavirus infection in Israel. Almost 26000 active cases are still present in the country. The number of confirmed cases is increasing with the passage of every single day. According to the reports, most of the protests remained peaceful. However, the clashes between the protestors and the police were also reported in some places.