Part of Los Angeles Highway closed down by protesters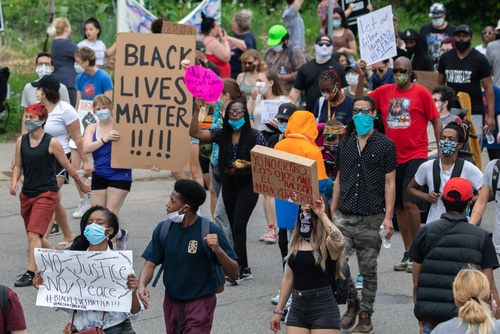 Justin Berken / Shutterstock.com
The protesters in Los Angeles closed down a part of LA Highway on Wednesday. They were protesting against the use of force by law enforcement in the United States of America. A video circulated on the media that showed a large gathering of demonstrators marching on US 101. They blocked an entire side of the freeway.
According to the local media, a protester got injured during the protest on the highway. An ambulance was sent to the scene by the relevant authorities to transport the injured person to a hospital. A significant traffic jam occurred due to the protest on the highway, according to the local media. However, the authorities came up to et the protesters away from the roadway.
The protestors started marching on the streets of downtown LA. They blocked other lanes after getting off the highway's freeway. Several protests have been coming in the US after the death of George Floyd in Minneapolis due to the use of force by a law enforcement official. The protest in LA, The Black Lives Matter, came after two days of the incident. Another protest happened in Minnesota in the support of Floyd's death, according to the media reports.
Floyd lost his life in the custody of the police on Monday. According to the officials, a police officer knelt on his neck for several minutes. The face of Floyd was against the pavement. He gasped for breath while the officer was using force. Fortunately, a bystander recorded the actual video of the scene when the officer was pressing his knee on the neck of Floyd.
The video was uploaded to social media. People asked for justice by sharing the video and leaving comments in favor of the deceased soul. Now, people have decided to come up on the roads in order to push pressure on the authorities to take quick action and investigate the incident as soon as possible. Their aim is to get justice for Floyd as quickly as possible.