Time to impeach Donald Trump?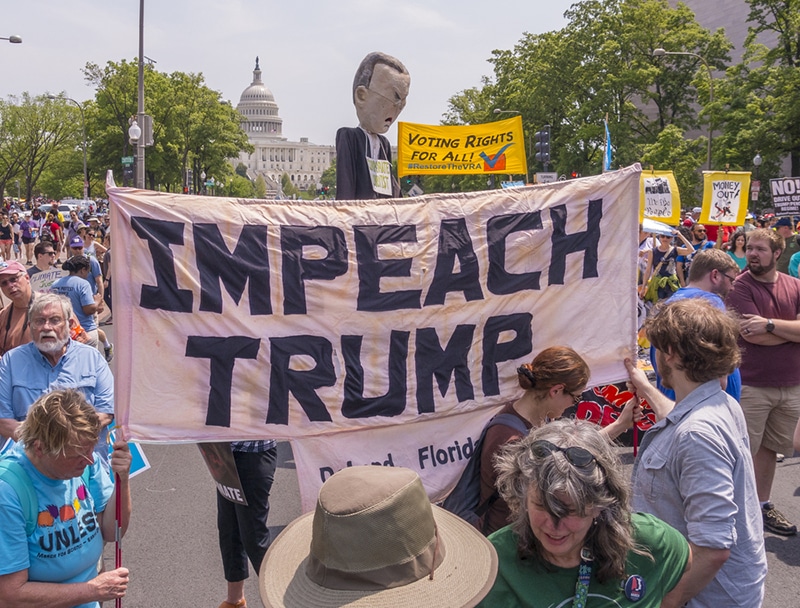 Rob Crandall / Shutterstock.com
Many Democrats think that the Mueller report can enable to start impeachment proceedings, the others argues that it might help Trump.
Mueller's report which is about Russian meddling in the US presidential election was released to the public.
The report was 448-page and two-week recess was enough to read it. It was devastating portrait of a presidential campaign willing to get help from an external adversary and president intent on using the power of his office to protect himself and everyone around him.
Speaker Nancy Pelosi has urged caution on impeachment, this encouraged the Democratic committee chairs to use Mueller's report as a road map to maintain investigation over presidents and view the origin of the facts.
"Impeachment is the people's last mean of constitutional self-defense against a president who is breaking the rule of law and acting like a king" said Jamie Raskin.
After almost two-year investigation on Russian meddling in the previous presidential election, Mueller said that there was not sufficient evidence that Trump's 2016 campaign engaged in a criminal conspiracy with Russia.
The last version of the investigation's findings included Trump's actions over this issue whether he does something against the investigation or not.
Many Democrats believe that Trump's behaviors meet the bar for impeachment.
Bernie Sanders worries impeachment because he thinks that this might strengthen Trump's electoral prospects.
Warren said, "if everyone in Congress talks about impeachment of Trump, Mueller and they are not talking about healthcare, raising minimum wage to a living wage, combating climate, change, sexism and racism and etc." He is worried this process works on behalf of Trump.
Maxine Waters also announced "90 % of calls and mails that she receives support impeachment of Trump."
Young Americans support impeachment of Trump at a higher rate than older ones.
Democrats are aware of the history of impeachment. They remember the Watergate scandal and what public opinion led to. Also, Republicans wanted to impeachment of Bill Clinton.