Trump tweets unexpected photo on Twitter, Trump as Rocky Balboa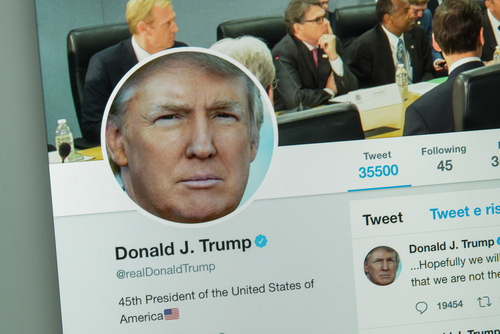 Casimiro PT / Shutterstock.com
Trump posted something completely different from his Twitter account with no caption. He is an active user of Twitter and we all know this fact. His political campaign mostly relies on Twitter. He twitted a photo of himself as Rocky Balboa, a fictional boxer. Sylvester Stallone played the fictional boxer role of Rocky Balboa.
Trump is currently spending the Thanksgiving holiday in Palm Beach, Florida, at his own resort, Mar-a-Lago. He posted the photo of himself as Balboa from there at around 11:30 am. The championship belt of the Balboa and his shirtless body can be seen in the photo but the face is of Trump. The boxing gloves can also be seen in the photo.
Trump tweeted the photo without any explanation and caption. He just posted the photo of himself as Balboa. He took the image of Balboa from the poster of "Rocky 3". "Rocky 3" was released back in 1982. Mr. T was the enemy of Balboa in Clubber Lang, a boxing ring, in the movie. Surprisingly, "Rocky 4" was released in 1985. In "Rocky 4", Balboa defeated a Russian boxer, Ivan Drago, for reducing the tensions between Russia and the US. "Rocky 4" was released exactly 34 years ago.
Trump attended a rally at the BB&T Center in Florida and he clearly mentioned Russia in the rally. He placed some accusations on the Democrats as well. He said, "First it was the Russia hoax, and now the same maniacs are pushing the deranged." A rumor of having a heart attack was also denied by Trump. The news was circulating about the admission of Trump in Walter Reed Medical Center after having a heart attack.
Trump said that he had a gorgeous chest according to the physicians. The photo is also aligned with the "gorgeous chest" comment of Trump. Trump will stay at his resort in Florida until Sunday. People have given a great response to the photo of Trump on Twitter. Trump criticized the Democrats over the impeachment inquiry.