Art Institute of Chicago to reopen on July 30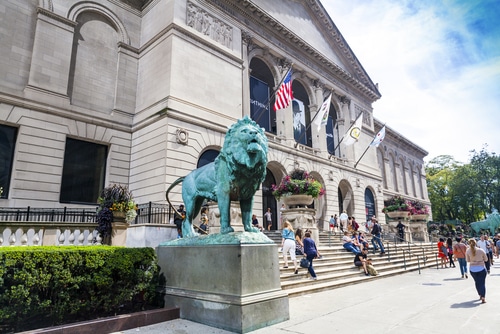 MaxyM / Shutterstock.com
Many people in Chicago missed wandering the galleries of the Art Institute of Chicago during the coronavirus shutdown. Many people visit the Institute from all across the world. The physical access to the expensive artworks of a huge number of famous artists was not possible for nearly five months.
According to the officials, the Art Institute will reopen on July 30 with an operating capacity of 25%. The decision is made to maintain the social distancing guidelines amid the coronavirus threats. Kati Murphy of the Art Institute of Chicago said, "It's been a difficult time for all of us, but we are really looking forward to be able to reopen."
Murphy told NBC 5 in April that 51 staff members of the AIC were laid off due to the pandemic. It was a hard decision made by the museum officials to control reduce the museum visitors. Now, the visitors can come back to engage with the artistic treasures once again. Murphy said that they would take measures to ensure the safety of the visitors.
The world has changed so much due to the coronavirus pandemic since March. The artistic collections in the galleries of the AIC will highlight this change. The visitors will have to follow some restrictions for their safety. They will not be able to wander or linger freely as they did in the past. El Greco: Ambition and Defiance is one of the special exhibition that is still on view in the museum until September. It was opened on March 7 before the shutdown.
The Illinois residents will get free admission to the AIC for a week. The visitors (above the age of 2) will have to wear face coverings. The visitors having a physical disability or a medical condition that enforces them not to wear a face mask must have to contact museum officials prior to their visit. The public must have to book advance tickets. Members are not required to reserve tickets. Chicago teens and children are always free to enter the AIC in normal operating hours.