Ben Zobrist is set to make his debut in Cactus League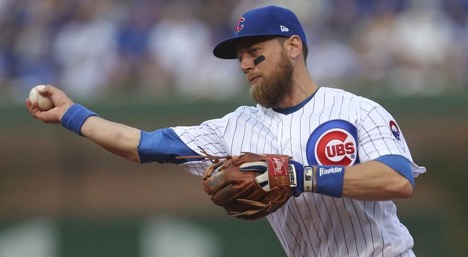 Joe Maddon, manager of Chicago Cubs, said, "Zobrist will make his debut in Cactus League as an infielder of Chicago Cubs". He has missed the spring training sessions with the team due to excused absence. He will bat second in the upcoming match at Thursday afternoon against Oakland A's team. The match is going to be played at Sloan Park in which he will serve his team as a designated hitter. Jason Heyward, right fielder of Cubs, will also be in the team lineup in the match as he has already missed past two games due to personal reasons.
Ben Zobrist will make his debut in Cactus League and he is quite excited for the match. He will bat at the second number as announced by the team manager. Heyward will bat at seventh position and he will play at the right field for the Chicago Cubs team. Chicago Cubs are looking to maintain a purposeful lineup in the league for getting best out of the team players. Cubs have huge support and a group of kids along with their family visited Arizona for watching their players getting training in the spring training camp.
Kyle Hendricks will play on the hill position for the Chicago Cubs in the match against Oakland A's. Kris Bryant, Anthony Rizzo, and Javier Baez will also be part of the team against the clash of Cubs with A's at Thursday afternoon. The first pitch of the match is going to be started at 2:05 p.m. The radio call can be streamed by the fans at the official website of the Chicago Cubs. The fans are eagerly waiting for the match against the Oakland A's. It is going to be an exciting contest and if you cannot visit the stadium then stream the radio call from the official website. Zobrist is going to make his debut in Cactus League and all eyes will be at his performance. The match is going to be started Thursday afternoon in Sloan Park.