Hundreds protest in Chicago against Senate 'Cover-up' in Trump's impeachment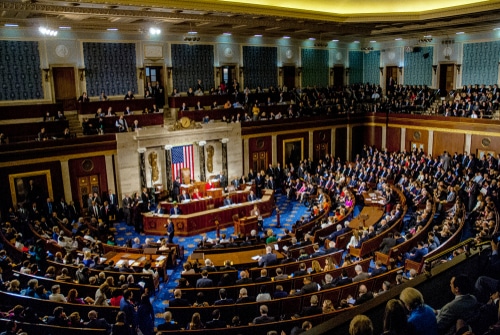 mark reinstein / Shutterstock.com
The US Senators covered up President Trump through their votes to acquit him in his impeachment trial, according to the protestors. Hundreds of people recorded their protest against the Senate vote. They rallied in Chicago's Federal Plaza in the Loop on Wednesday night. The Senate voted on party lines on Wednesday to acquit Trump.
President Trump was impeached by the US House in December. The House members accused Trump of abusing his power against Joe Biden. According to the allegations, Trump got military aid to extort Ukraine to investigate Biden. The Senate voting revealed that only Sen. Mitt Romney of Utah voted in favor of Trump to be impeached by Senate. He gave a stirring speech on the Senate floor.
Senate is currently controlled by the Republicans and the impeachment was unlikely to get a two-third majority there. Hundreds of people came out on the streets to protest against the Senate voting and thousands came out all across the US. Ed Yohnka, a spokesman for the American Civil Liberties Union of Illinois, said, "I think this president has always been a threat to civil liberties."
Yohnka added that the Republican Party had become a wholly-owned subsidiary and it was a huge threat. Wednesday's rally in Chicago was organized by Indivisible Chicago. Denise Poloyac of Indivisible Chicago said, "The evidence is clear that Trump has pressured Ukraine to declare an investigation into Biden."
According to Poloyac, every senator was known for Trump's involvement in Ukraine's case but they voted against the impeachment. She added, "We are here today because we are going to call out their cover-up." The protestors rejected the cover-up of the US Senators. During the rally, the crowd chanted, "We reject the cover-up." Yohnka said that the courts were also threatened by the cover-up. However, Trump has been cleared by the Senate and he is acquitted in his impeachment trial.