US-Canada-Mexico trade pact approved by US House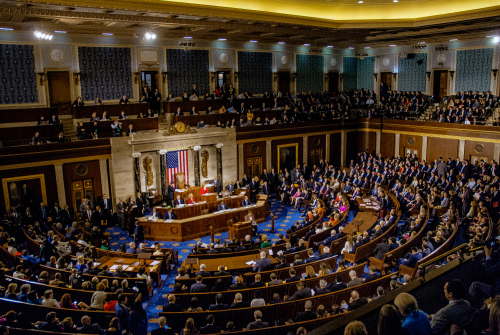 mark reinstein / Shutterstock.com
The US House approved the controversial trade pact bill. The bill was approved after the addition of concessions over labor regulations and drug prices. The bill has been sent to the Senate for the final approval. If the bill will be approved by the Senate then it will replace the North American Free Trade Agreement (NAFIA). The current trade pact is known as US-Mexico-Canada Agreement (USMCA).
The bill approved with bipartisan support in the US House with a final voting result of 385-41. Jesus "Chuy" Garcia, a US Representative of Chicago, voted against the approval of the USMCA. Garcia is a Mexican-native US Rep. of Chicago. Illinois farmers and manufacturers considered the trade pact a boon.
According to FarmWeekNow.com, Richard Guebert Jr., the president of the Illinois Farm Bureau, appreciated the approval of the bill. Guebert said, "We are ecstatic to see the bipartisan efforts by House leadership and Trump administration to negotiate this important deal." The USMCA is a modern trade deal between the two of the top trading partners of the US. China is also one of the top trading partners of the US. However, Trump started a trade war with China Last year and it is still unresolved.
The Senate will vote for the bill next year but the current approval by the House is cheered by the businesses and politicians. Guebert thanked the efforts of Nancy Pelosi, the Speaker of the US House, Rep. Cheri Bustos, and other legislators who supported the bill. Bustos said, "Illinois farmers and workers deserve the strongest possible trade deal."
Pelosi visited Illinois in summer and said that the original pact negotiated by the Trump administration was not ready. She added that the farmers of all three countries needed to get proper environmental regulations. Garcia said that the labor concessions were not good enough. Garcia added that he opposed the bill after talking to several labor leaders and environmental experts.