Vandals burn statue of Melania Trump in Slovenia on July 4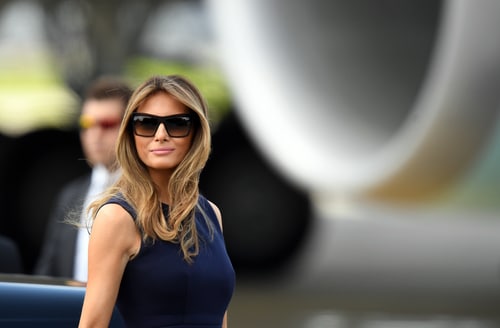 MaciejGillert / Shutterstock.com
The statue of Melania Trump, the First Lady of the United States of America, has been burned by vandals in her Slovenian hometown on July 4. The incident has been reported by CNN and Reuters. The sculpture was commissioned by Brad Downey. Downey is an American, Berlin-based artist. He said that he received a call from officials in Sevnica, Slovenia, on July 5.
The officials informed him that the statue was badly burned by the vandals on the night of July 4. Downey immediately filed a police report after hearing about the incident. He also immediately has the burned statue removed. Downey talked to CNN about the incident. He said that he was not interested in pressing charges against the individuals who were responsible for this act.
Donald Trump, the president of the United States of America, took a hard line against the vandals in recent weeks. A lot of incidents have been reported in recent weeks in which the vandals damaged or destroyed historical statues all across the US. Most of these statues tied to slavery and imperialism. Trump called the toppling of monuments "far-left fascism" in his speech at Mt. Rushmore on July 3.
Trump said that the far-left fascism aimed to end America. Downey commissioned a local woodworker to carve the 25-foot statue out of a fallen tree trunk in 2019. The face of Melania Trump, the wife of Donald J. Trump, was not immediately identifiable in the sculpture. In the statue, she was depicted wearing the light-blue dress. It was the dress that she wore during the Inauguration of Trump in 2017.
Downey has reported the incident to the police. However, he said that he would not press any charges against the vandals. He said while talking to CNN, "I would be curious to see who did it." The statue has been removed from its original place after the incident. The Black Lives Matter protests are ongoing across the US.