May has no breakthrough after constructive Brexit talks in Brussels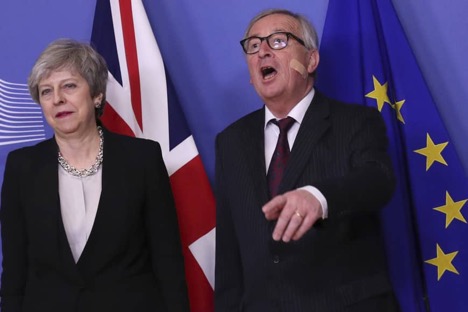 Thresa May is looking for changes in Brexit deal as she told Jean Claude Juncker, European commission president, "she needs legally binding changes". She wants changes due to Irish backstop but the high-class meetings in Brussels did not provide her a breakthrough. Juncker predicted before the meeting that there would be no breakthrough as the UK entered the meetings with low expectations. A joint statement came on Wednesday from both leader in which they decided to meet again at the end of this month and the discussion will be "constructive" during that meeting.
EU is continuously ruling out the Irish backstop although UK is trying to convince EU for making changes. May said after the meeting, "the legal binding changes would be in the mutual interest of the both UK and EU. UK will leave the EU but it should leave it in a proper way". Juncker also met with the president of Slovenia, Borut Pahor, who made a hopeful voice in the favor of changes and he also backed the Irish backstop.
Juncker also made a joke in the press conference that May is not responsible for the injury on his face as he had a plaster on his face due to minor injury. Although the officials are not in any mood of jokes as Brexit is getting a tensed matter of the current time. May showed a hope that the backstop would never be come in force. Both the sides are planning to make an appropriate legal document which would guarantee that backstop will not be used. Diplomats are saying that the legal text did not seem realistic. They added, "The fudge language is the traditional of UK parliament but it does not work with EU Laws". May's quest for the majority is also in some kind of danger as diplomats said, "It is hard situation for any UK Government". UK is looking to get out from the EU in a proper way.